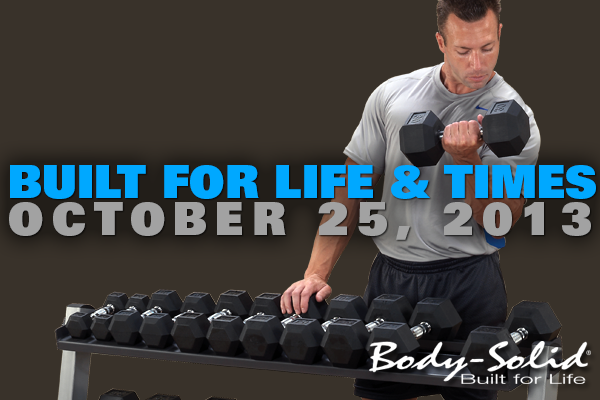 Welcome back! It's been a few weeks since the last Built for Life & Times blog so we have a lot of catching up to do. In today's edition we'll look at dynamite dumbbell workouts, how to fix your pushups, some facts about using music in your workouts, a Peanut Butter and Banana protein smoothie and our featured Body-Solid product of the day.
#Solidology – Dynamite Dumbbell Workouts
Without a doubt, an important addition to every strength and conditioning program, dumbbells are a standard in every gym across the planet. We at Body-Solid love dumbbells and offer a number of great options including multi-colored Neoprene and Vinyl dumbbells, pro style, rubber coated hex and steel hex dumbbells. See our full selection at http://www.bodysolid.com/Home/Free_Weights/Dumbbells.
The fact that dumbbells have become a standard benefits you in many ways — even when the gym is packed, chances are a few dumbbells available. Likewise, if you have a home gym, you're likely to own some dumbbells yourself.
As Lee Boyce of BodyBuilding.com and LeeBoyceTraining.com points out, "I worked at a commercial gym for many years. I witnessed peak hours stop lifters with good intentions dead in their tracks. People who beat traffic and made it to the gym first always hoarded the best equipment, leaving the stragglers to work in wherever possible. When I couldn't stand the sickening pattern any longer, I created out-of-the-box dumbbell workouts which matched the intensity of heavy barbell training.
Dumbbell training became my secret weapon to ignite serious hypertrophy in sticky situations."
Boyce shared four body part specific workouts to get great results without barbells.
Back
Dumbbell Deadlift: 5 sets of 10 reps
Wide-Grip Pull-Ups: 5 sets to failure, 90 seconds rest between sets
Dumbbell Rows: 4 sets of 15 reps, each arm
Inverted Rows: 4 sets to failure, 90-120 seconds rest between sets
Dumbbell Reverse Flyes: 4 sets of 12 reps
Dumbbell Trap 3 Raise: 4 sets of 12 reps each arm, 90 seconds rest between sets
Chest
Incline Dumbbell Bench Press: 5 sets of 12-6 reps, last set to failure
45-Degree Incline Dumbbell Press: 5 sets of 12-6 reps, last set to failure
Dumbbell Bench Press: 5 sets of 12-6 reps, last set to failure, 2 minute rest between sets
Dumbbell Incline Flyes: 4 sets of 10 reps
Bodyweight Push-Ups: 4 sets to failure, 90 seconds rest between sets
Legs
Bulgarian Split Squat: 5 sets of 10 reps each leg
Goblet Squat: 5 sets of 12 reps, 60-90 seconds rest
Reverse Lunge for Deficit: 4 sets of 10 reps each leg
Dumbbell Deadlift: 4 sets of 10 reps, 60-90 seconds rest
Dumbbell Step-Up: 4 sets of 10 reps each leg, 60-90 seconds rest
Heels-Elevated Goblet Squat: 1 set to failure, 60-90 seconds rest
Shoulders
Seated Dumbbell Shoulder Press: 5 ladder sets of 2, 3, 5, 10, 10, 5, 3 and 2 reps, 10 seconds rest between rungs
Seated Dumbbell Lateral Raise: 4 sets of 12 reps. 60-90 seconds rest
Single-Arm Dumbbell Snatch: 4 sets of 10 reps each arm, 90 seconds rest
Seated Dumbbell Cleans: 4 sets of 10 reps, 90 seconds rest
#Solidology – Fix Your Pushups
Pushups are a great upper-body workout that most people from amateurs to the gym obsessed can pull off effectively. However, as Michael Schletter of MensFitness.com points out, falling behind in an body area can "render pushups ineffective, leading to disappointment and, in more serious cases, injuries". Schletter offers a few tips to fix these issues.
The first issue is a weak core which Schletter recommends using the plank to fix. A weak core can cause your lower back to fall during pushups and can negatively affect your pushups. Work planks into your routine 1-2 days per week for 3-4 sets.
The second issue is weak quads and the fix is something you are probably already doing — squats! Work squats into your routine 1-2 days per week for 3-5 sets and 8-10 reps.
Lastly, incorrect hand placement can be fixed via practice. It's just that simple. Shoot your legs back, get into a pushup position and your hands should still be under your shoulders. Next, imagine your hand is in sand and try to grab the ground. This activates your muscles and hand.
Read the full article at http://www.mensfitness.com/training/pro-tips/3-ways-to-improve-your-pushup
#SolidScience – Making Music Can Boost Your Workout
You can probably attest to the fact that you workout better when you're listening to music, that fact has been studied and confirmed many times over. What you probably didn't know is MAKING music while exercising makes the exercise easier!
A new study from the Proceedings of the National Academy of Science, researchers at the Max Planck Institute for Human Cognition and Brain Sciences in Leipzig, Germany invented an electronic kit that could be integrated into the internal workings of weight-training machines, turning them into boom boxes. The kit produced a range of propulsive, electronic-style music with sound levels and rhythms depending on how the machines weight bar was manipulated.
The study saw 63 healthy men and women divided into groups and put through brief six-minute exercises. The results showed that volunteers had significantly greater muscle force while working on the musically equipped machines than the unmodified ones. They also used less oxygen to generate that force and reported that their exertions felt less strenuous.
These musical machines aren't available commercial yet, but maybe you can harmonize with a workout partner Barbershop Quartet-style in the meantime.
In the more classical sense, we're asking our friends and fans to help us build a workout playlist on Spotify (http://www.bodysolid.com/builtforlife/training_room/blog/2013/10/16/Built_For_Life_Blog/BodySolid_Workout_Playlist_Spotify_/ar/114/). Comment on that post or send us a tweet at @BodySolidFit to have your pump-up song added to the playlist.
#SolidEats – Peanut Butter & Banana Protein
Does a delicious protein packed smoothie sound good? Thought so.
Half of one banana

1/2 cup of almond butter or peanut butter

1/2 cup of almond milk

6 ice cubes

1 tablespoon of chocolate whey protein powder

Place all of the ingredients into the blender and blend until smooth.
Enjoy! Special thanks to Kelly Groff of JeremyScottFitness.com for the recipe.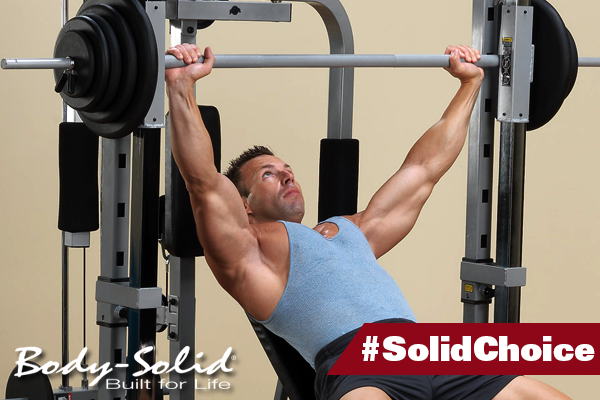 #SolidChoice – PSM1442XS Powerline Smith Gym
One of America's favorite gyms with literally tens of thousands of satisfied owners across the nation. We revolutionized home weightlifting in the last decade when we introduced an economical and practical version of a health club tradition: The Smith Machine.
The unique, patented bushing system and super smooth sliding carriages will help you achieve rapid results in a controlled and safe environment that has been proven by customers like yourself for years. It's time to join the ranks of fitness enthusiasts nationwide with America's #1 choice for factory direct fitness equipment.
Find out more about the PSM1442XS at http://www.bodysolid.com/Home/PSM1442XS/Powerline_Smith_Gym