Thanksgiving dinner may be the ultimate cheat meal for some, but if you're looking to continue pushing towards fitness goals, there's no reason to fall off the wagon.
If you're on a bulking cycle or looking to mass gain, here are a few tips on how to approach your Thanksgiving meal:
Eat heavy but do not gorge yourself. Maxing out the digestive system could lead to digestive and gastrointestinal discomfort, especially with a high fat intake.

Eat your vegetables! But seriously, eat them. Also integrate a lot of lean meat, which are less fattening but huge on protein.

Have a medium amount of carbs including potates, rice, pasta and breads.

If possible, a massive mass workout completed just after the meal would be a great idea but we understand that's not realistic for everyone.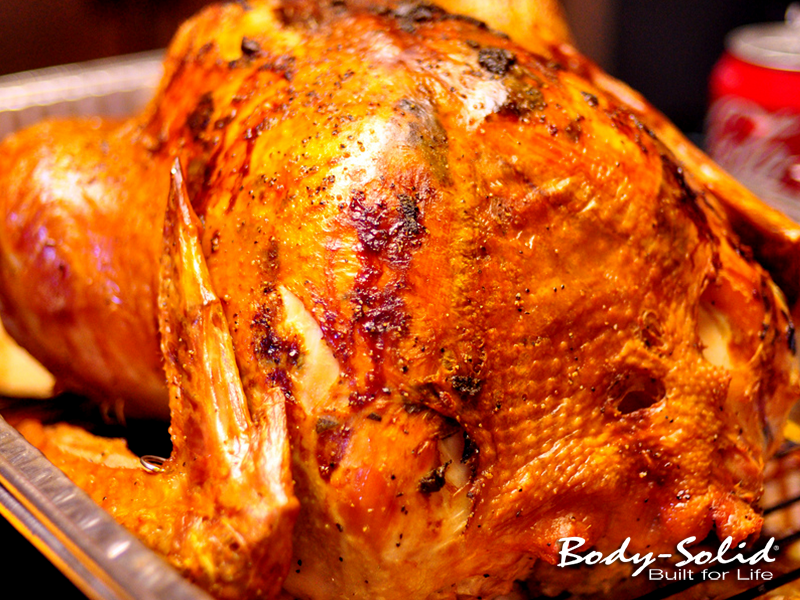 If you're looking to just maintain your current weight and don't want to fatten up after the meal, here are some ideas.
Stay very away from heavy and thick sauces and creams.

Eat plenty of vegetables and medium amounts of fruits.

Limit desserts such as pies, cookies, pastries, and ice cream to a bare minimum. We know the pumpkin pie can be tempting, so just have a slice and don't gorge yourself.

Choose the whole grain and whole-wheat versions of breads and pastas, and for potatoes stick to sweet potatoes and red potatoes.

Attempt to avoid alcohol or at the very least have a minimum amount of it. Keep pushing water!
And lastly, here are foods that are healthy low calorie options along with the unhealthy ones:
Foods to embrace this Thanksgiving:
Turkey, Broccoli

Green Beans

Asparagus

Egg whites

Celery

Onions

Mushrooms

Green Salads

Apples

Almonds (unsalted)

Pecans (unsalted)

Tomato

Water

Coffee without cream

Pears
Foods to avoid or keep at a minimum:
Sweet Potato Casserole

Green Bean Casserole

Deviled Eggs

Cranberry Sauce

Pecan Pie

Pumpkin Pie

Stuffing or Dressing

Baked Beans

Gravy

Glazed Carrots

Twice Baked Potatoes

Honey Glazed Ham

Peas

Corn

Honey Roasted Nuts

Salted Cashews

Ciders

Alcohol

Juices

Soda
Happy Thanksgiving from all of us at Body-Solid, enjoy!