Welcome back! We hope you've had a great weekend, a productive Monday and Tuesday and are ready to dominate hump day. We have a few articles from around the web you should check out including a piece from Lee Boyce about Boosting Your Bench Press, Jen Cohen's Fitness App recommendations, NerdFitness' look at squats and as always, the Body-Solid Product of the Day. Let's get after it!
Boost Your Bench Press
Lee Boyce of Bodybuilding.com and LeeBoyceTraining.com has a really good piece discussing proper bench press technique and common flaws. As he mentions in the opening paragraphs, bench press is one of, if not the, most popular exercises you'll see at a gym. The problem though is most people don't seem to have the slightest clue what they are doing while attempting them.
We included his video below but Boyce goes into further detail about specific fixes and workouts to help develop a strong, more consistent bench press at http://www.bodybuilding.com/fun/press-on-3-fixes-to-boost-your-bench-press.html
5 Awesome Fitness Apps That Actually Get Results
There are so many fitness apps on the market, it's almost impossible to make sense of which work, which don't, which to avoid, which are best for which goal but Jen Cohen of Health aims to add some clarity with her top five.
1. Hot5
Hot5 is hands down one of my favorite apps for 2014. From abs and core to yoga and flexibility and everything in between, Hot5 contains pages and pages of 5-minute video workouts that are super easy to follow.
Compatibility: iPhone; Cost: Free
2. GymPact
We all need a little motivation when it comes to working out, and GymPact is the perfect way to get inspired. How does it work? Make a commitment to work out a certain number of times a week. Choose the amount of money you are willing to risk if you don't reach your goal. If you don't achieve your goal? Your credit card gets charged. Achieve your goal? You get paid! The days of being paid to work out have finally come!
Compatibility: iPhone and Android; Cost: Free
3. Weight Watchers Mobile
Sure, you've heard of Weight Watchers, but there's a reason this company has been around so long. Their system gets great results –plain and simple. Weight Watchers Mobile is a great way to track your calorie consumption by using their point system. Not only can you enter and search for different foods in their database, you can scan barcodes for instant information about what you're eating.
Compatibility: iPhone and Android; Cost: Free, but you must be a Weight Watchers' member to get full access.
4. RunKeeper
RunKeeper has been around for a while, but it's still one of the greatest fitness apps out there. RunKeeper allows you to track your runs, walks, or bike rides by using the GPS system in your phone. You can view your detailed stats on its easy-to-use layout, and also track your progress over time.
Compatibility: iPhone and Android; Cost: Free
5. Zombies, Run! 2
That's right… the zombie craze has even reached the fitness arena. This action packed app adds an element that is sometimes missing from other workout apps – fun. Zombies, Run! and Zombies, Run! 2 mix games and stories into your run as you complete missions in a world laden with zombies. Whether you're gathering supplies, saving a fellow human, or out-running a horde of the undead, this app amps up your normal jog with imagination and competition.
Compatibility: iPhone and Android; Cost: $2.99
Read the full article at http://news.health.com/2014/01/08/5-awesome-fitness-apps-that-actually-get-results/
Strength Training 101: How to Squat Properly
One of my favorite websites on the internet (because I'm a nerd and love fitness) is… NerdFitness. Today we have an awesome piece from Staci Ardison looking at squats. From bodyweight to barbell, mistakes, tips, tricks and everything in-between.
Even though the squat is considered by many to be a "leg" exercise, it's really a full body movement that works just every muscle group in the body.

Not only that, but it mimics a ton of natural movement patterns in everyday life. In this nerd's opinion, squats are the most useful exercise we can do when it comes to strength training.

Whether your goal is to gain strength or lose weight, squats are one of the fastest ways to get there.

If you've never squatted before, you might be a bit intimidated about the idea of starting a big new exercise. Never fear! Today we're going to go over everything you need to go to start squatting RIGHT NOW.
Check out Staci's full article at http://www.nerdfitness.com/blog/2014/03/03/strength-training-101-how-to-squat-properly/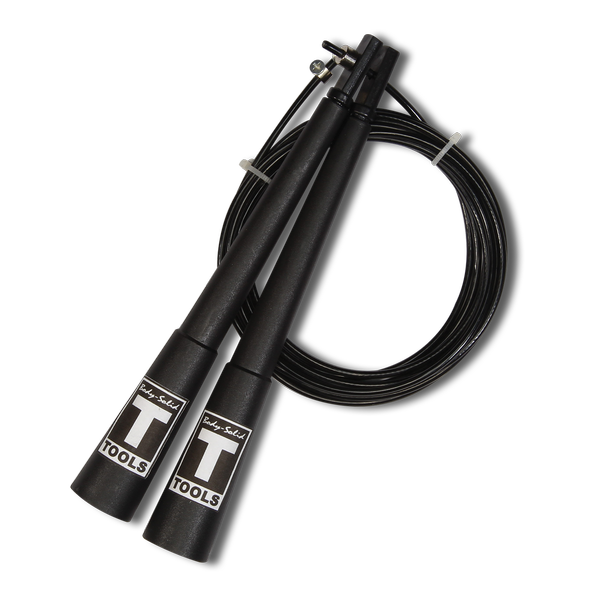 Body-Solid Product of the Day: BSTSR – Speed Rope
The Body Solid Tools Cable Speed Rope is designed with frictionless rotation for extreme cardio workouts. Speed ropes are great for cardio workouts and help increase agility and coordination. T
Adjustable up to 9' 6" to fit any size user, this durable rope uses sealed ball bearings for unsurpassed rotation.
The comfortable handle allows you to perform double and triple-unders unlike any other jump rope on the market.
Find out more about our all-new Speed Ropes at http://www.bodysolid.com/Home/BSTSR1/Body-Solid_Cable_Speed_Rope