It's Friday, you made it! Congratulations, now it's time to make the most of your weekend. Here's a few articles to get you on the right path including a very important look at the science and importance of sleep.
Sleep Science: Hitting the Snooze Bar
EliteFTS' Jonathan Mike did the heavy lifting (pun intended) by looking at the science behind sleep and just how important it is for not only for everyday people but especially for athletes.
"Sleep is often overlooked in the name of training, recovery, and overall physique improvement. There are numerous factors that can affect sleep, so I encourage you to take a global view of why your sleep can very well be affected. Hopefully, this has provided you with more understanding about the fundamental process of sleep, what it is, its purpose, its role in the training process, and some insight into various sleep strategies. I recommend that you try various modalities or use a combination to match your performance needs."
Jonathan also provided some sleeping tips which are a good start for those who don't think they are getting enough (which could probably describe most of us):
Sleep tips
Get 7–9 hours/night (maybe more) at least once or twice weekly.
Eat diets high in protein to improve sleep quality.
Take a full, 100-minute nap or a minimum of a 30-minute power nap to compensate for lack of sleep during the week.
Try supplementing with tryptophan. Doses as low as 1 gram can improve sleep latency and subjective sleep quality.
Stop watching television by 9:00 p.m.!
Limit caffeine to more of a training aid and don't consume prior to sleep.
Establish an actual bedtime routine just like your pre-training routine. For example, read (as in a book or something that isn't related to social media) for 30–45 minutes (I do this myself).
Consume some type of carbs (i.e., yogurt, carbs and protein, oatmeal, and/or milk).
Drink some tart cherry juice.
If these other tips don't work, try a sleep aid like GABA or something more potent. Hell, you probably have a CPAP, so there may not be a need for something extra.
Read Jonathan's full article at http://articles.elitefts.com/training-articles/sleep-science-hitting-the-snooze-bar/
The Ultimate Grip Strength Workout
"Having strong fingers, hands, and wrists helps you lift more weight and allows you to hold the weight for longer time and more reps," says Jedd Johnson, strength coach and co-founder of DieselCrew.com. "This translates to better results in the gym."
An often-overlooked aspect of lifting is the grip and this workout from MenFitness is here to help! The workout includes: Hand Grippers, Rack Suitcase Isometric, Plate Pinch Hulas, Hand Extensions, Globe Pullups and more.
See the full article and the workout at http://www.mensfitness.com/training/workout-routines/ultimate-grip-strength-workout.
Add Isometrics To Your Program
Have you ever tried isometrics with little to no results, so did T-Nation's Chad Waterbury that was until he learned how to fully harness their unbelievable power:  
"You might've experimented with isometrics in the past and if you're like most lifters, that experimentation was limited to holding the last rep of a set for as long as possible. And it probably didn't help much. Isometrics are something I didn't experiment with nearly enough in my early training days. Like most of you, I considered it nothing more than an afterthought – just hold the last rep for as long as possible and hope that something magical happens. But magical stuff never did happen, so I tried to figure out why."
See what Chad discovered at http://www.t-nation.com/training/isometric-exercises-that-work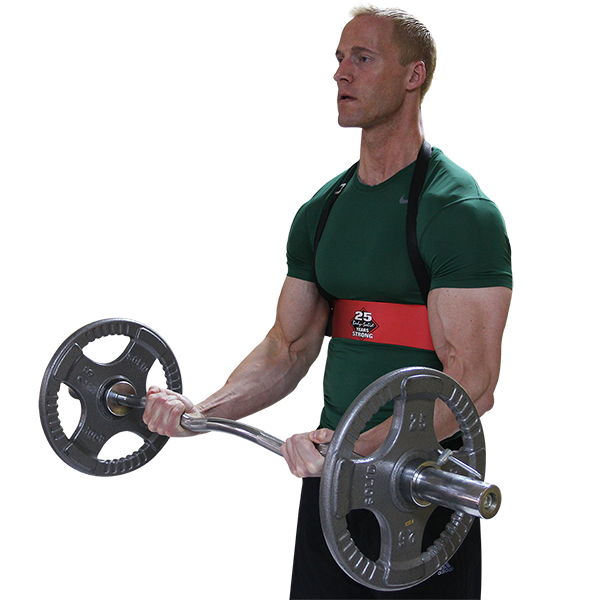 Body-Solid Product of the Day: BB25 Bicep Bomber
In celebration of Body-Solid's 25 years in business, one of our most iconic pieces of equipment gets a significant upgrade!
Introducing the special 25th anniversary BB25 Bicep Bomber. The same great uniquely contoured design in an all-new high-tech, high-gloss anodized red finish, honoring our 25 years with a special logo and an upgraded design. We've taken everything great about the original Bicep Bomber and made it better.
The Bicep Bomber allows you to isolate your arms and shoulders while keeping your back and elbows locked in the perfect curling position. This special-edition features a 1000 lb. capacity webbed nylon belt and a thick and an oversized neoprene neck pad for complete comfort. Dense elbow pads further ensure comfort and stability for safer, more efficient workouts while isolating the movement in a standard biceps curl to concentrate the lift. There is no better tool on the market for larger, stronger biceps than the Body-Solid BB25 Bicep Bomber.
Learn more about the 25th anniversary special edition Bicep Bomber at http://www.bodysolid.com/Home/BB25/25th_Anniversary_Bicep_Bomber