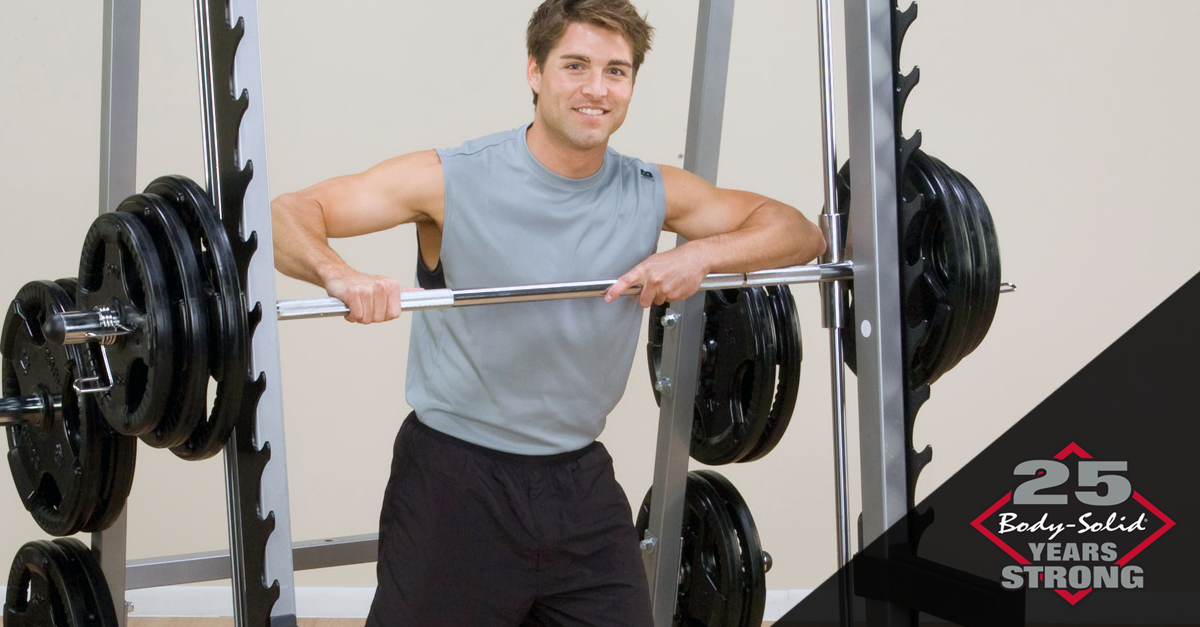 One of the cornerstones of Body-Solid through our 25-plus years in business is the Smith Machine. Body-Solid revolutionized home weightlifting when we introduced an economical and practical version of this health club tradition. In today's blog post we'll look at the benefits of using a Smith Machine, some of the history behind the equipment as well as the options offered by Body-Solid.
Smith Machine History
The Smith Machine was invented by legendary fitness figure Jack LaLanne who created the machine at his gym in the 1950s. The origins were very similar to the ones we use today with a sliding bar and rack. LaLanne's invention was spotted by Rudy Smith, a men's bathhouse manager who decided to expand on the idea and install it in the gyms he was managing. One such gym, was owned by Vic Tanny, who is credited as the patriarch of the modern health club. The machine caught on immediately with gym-goers and the rest was history!
Benefits
The obvious benefit of a Smith Machine is lifting without a spotter. Notched on vertical posts surrounding the machine mean the barbell can be secured at any point. Simply twist your wrist to lock the barbell in place. This is beneficial if you get a little too overconfident and try to push too much weight or simply need to stop for any reason.
Another great feature is that a Smith Machine bar does not move forward, backward or sideways. As a result of this feature, the Smith Machine requires less stabilization from the lifter. This, of course, will allow you to lift more weight than you would on a standard free-weight barbell.
Body-Solid Options
Body-Solid Series 7 Smith Machine (GS348Q)
Body-Solid's Series 7 Smith Machine is set a 7-degree reverse pitch allowing natural upper and lower body movements for maximum muscle interaction. 20 cross-member lock-out points accessible with a simple 15-degree rotation of the bar eliminates the need for a spotter and makes this one of the safest Smith Machines on the market.
A 14-position gun rack with 17" heavy-duty safeties is also set to the 7-degree reverse pitch, providing convenient lift-off points and predictable racking. The Series 7 also works with any bench for intense chest and shoulder routines in addition to the squat ability.
The Body-Solid Series 7 Smith Machine is the product of advanced biomechanical design, superior structural engineering and meticulous quality standards.
Body-Solid Series 7 Smith Gym (GS348QP4)
This package contains the Series 7 Smith Gym from above as well as the following attachments:
Powerline Smith Machine (PSM144X)
The next Smith Machine on the list comes from our Powerline brand. The PSM144X uses four 2" x 2" 12-gauge steel pillars to support and guide our patented Super-Glide carriage. This ensures safety during even the most vigorous and intense sets.
14 lockout positions and adjustable safeties ensure ultimate safety while maintaining quality and effectiveness.
Additional features include the dual-lock Safety Spotter Catch System. This prevents the bar for pinning the user in a max-out situation. Simply turn the pivot sleeve 15 degrees to lock the bar.
Heavy-duty adjustable safeties equip you for the unexpected while jump pop pins are quickly and easily adjusted to help you come to a safer, predetermined stop rather than adjusting or thinking on the fly.
We've also included a heavy gauge diamond plate foot plate and patented super-glide nylon bushings for frictionless movement.
Powerline Smith Gym (PSM1442XS)
Last but not least is our Powerline Smith Machine package featuring the PSM144X detailed above as well as the following accessories:
#PSM144X Powerline Smith Machine

#PFID130X Powerline Flat/ Incline/ Decline Bench

#SP150 150Lb. Weight Stack

#PPA13X Pec Station

#PPCA11 Preacher Curl Station

#PLDA11 Leg Developer Station

#PLA144X Lat Row Station
If you have any additional questions about Body-Solid Smith Machines please visit http://www.bodysolid.com/Home/Machines/Smith_Machines. If you'd like to see one in action, please contact or visit your local Body-Solid dealer. A full listing of Body-Solid dealers in your state or country can be found at bodysolid.com/dealer_locator.