Welcome to the inaugural edition of a new feature here at the Body-Solid Blog: Built for Life & Times!
The Built for Life & Times blog is a digest of some of the best bodybuilding/weightlifting articles and advice from around the web. We'll also feature great recipes to couple with your workout, interesting health/science news from the day, motivation to get out there and lift as well as a feature on one of our many great products.
Make sure you're following Body-Solid on Facebook and Twitter to ensure you're able to read the blog as soon as its posted and follow us for additional tips, workouts, recipes, motivation and much more!
#Solidology
Going away for Labor Day? Don't stop the workouts!
Let's start off with a great article from Ross Enamait at RossTraining.com about working out while on vacation. With Labor Day only a week a day many of you may be going out of town, staying at a hotel or possibly visiting family. If your hotel or wherever you're staying doesn't have a fitness center or proper workout equipment, what are you going to do? Skip a few workouts and do nothing? We'll act like we didn't hear that. Of course, you're going to keep it up!
Enamait addresses this idea about the necessity for training on vacation:
First and foremost, many people asked whether it is necessary to exercise on vacation. Unfortunately, there isn't a universal answer to the question. It is not for me or anyone to decide what you do while away from home. The decision to exercise must be made by the individual. With that said, whether you exercise or not isn't going to make or break you. Some folks may enjoy a complete break from physical activity. If that is what you prefer, by all means do so. Resting a few days won't eliminate the strength that took many months or years to develop. A complete break may actually recharge your batteries allowing you to supercompensate and come back better than ever.

If you are like me however, you may actually prefer making time for exercise. I don't train because I need to. I train because I enjoy it. My best days are always days when I've exercised. I feel better physically and mentally. That doesn't change just because I am away from home. Regardless of where I sleep, I still have 24 hours to operate with each day. Making time for a brief workout won't disrupt the rest of my plans.
Bodyweight exercises are the most convenient option, but Enamait does enjoying bringing a "travel kit" of sorts including an ab wheel, pull-up handles, jump rope and a pair of furniture sliders.
Check out the full article for additional tips at http://rosstraining.com/blog/2013/08/17/training-on-vacation/.
If you want to stock up like Ross, Body-Solid carries a few of his travel kit items:
#SolidScience
When's the Best Time to Take Creative?
(via MensFitness.com)
Most of you reading this blog are well aware of the benefits to the popular workout supplement Creatine. There is, however, many questions still about the best time to take Creatine — is it best before or after your workout?
According to a new report published in the Journal of International Society of Sports Nutrition the best time is after your workout.
The study was performed with 19 male bodybuilders wwho were randomly divided into two groups. One group took 5 grams of Creatine before their workout and the other group took 5 grams immediately after their workouts. Both groups trained five days a week for four full weeks and consumed the same amount of protein during this time.
All group members saw some benefit from the Creatine but those who took it post work increased their bench-press one-rep max far more than the men who took the supplement pre-workout.
#SolidBody
Jennifer Aniston gets "solid" for her role in "We're the Millers"
Wow. Jennifer Aniston recently got into great shape to perform her role as a stripper in the new movie "We're the Millers".
"I was on a very like, you know, greens and vegetables and lean proteins and kale… When I really wanted to have a cheat day," she said, "I had to have a kale chip."
Read more: http://www.usmagazine.com/celebrity-body/news/jennifer-aniston-stripper-diet-how-she-prepped-for-sexy-were-the-millers-role-2013307#ixzz2d5fmmGpi
#SolidEats
BBQ Chicken Wrapped Asparagus
A great workout doesn't get you anywhere without some great food and here's a great recipe from FitMenCook.com- BBQ Chicken Wrapped Asparagus.
The ingredients are super simple all you'll need are 2, 3 oz. thinly cut chicken breasts, 12 asparagus spears, 2 tbsp BBQ sauce and a few seasonings (cumin, paprika, garlic and pepper).
The whole meal only takes about 10 minutes to cook and 5-10 minutes to prepare —you can't beat that!
Check out the full recipe at http://fitmencook.com/grilled-chicken-wrapped-asparagus/.
#Solidology
Motivation time — don't start next week, start today!
#SolidChoice
GPR378 Body-Solid Pro Power Rack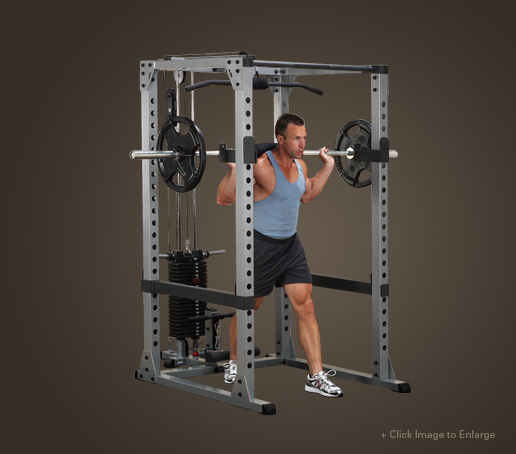 Today's featured Body-Solid product of the day is the GPR378 Body-Solid Pro Power Rack.
Freedom of movement combined with adjustable racking and safety positions make the Power Rack a must-have for those who want to strength train without compromise. The Body-Solid Pro Power Rack is designed to work with all types of benches and engineered for extreme workouts.
Heavy-duty 11-gauge high tensile strength steel frames feature all-4-side welded construction and oversized industrial strength hardware. Electrostatically applied powder coat finish resists chipping and scratching through the most brutal routines. If you want to get bigger and stronger fast, a Body-Solid Pro Power Rack is what you need.
Find out more about the Body-Solid Pro Power Rack and how you can add it to your gym at http://www.bodysolid.com/Home/GPR378/Body-Solid_Pro_Power_Rack/Features.
—
That's it for today, we'll see everyone next time. Make sure to follow us on Facebook and Twitter for complete updates on Body-Solid products, when the new blog is published, motivation, tips, workouts and much more!