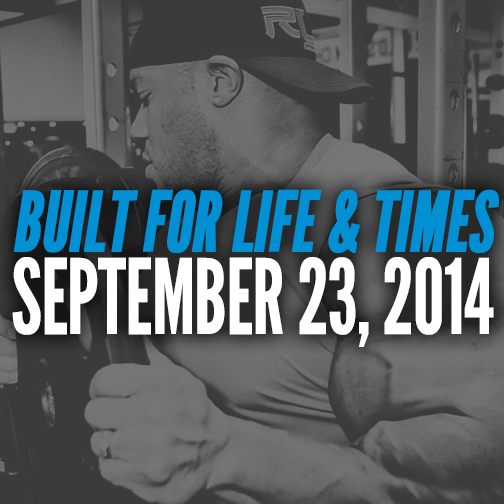 Good morning! Welcome to yet another edition of the Built for Life & Times, the official digest blog of Body-Solid. In today's edition, we feature an interview with the 2014 Mr. Olympia Phil Heath, tips for making the most out of your cheat meal, the Body-Solid Product of the Day, stretches and much more! Let's get right to it:
One-on-one with Mr. Olympia
Roger Lockridge of Bodybuilding.com had the chance to catch up with 2014 Mr. Olympia Phil Heath. Heath is starting to get into rare territory with his fourth Mr. Olympia, joining only Jay Cutler, Dorian Yates, Arnold Scwarzenegger, Ronnie Coleman and Lee Haney as four-time winners.
"A victory at any Olympia Weekend is a triumph, but to take home the Sandow at this year's event would be especially meaningful for Phil "The Gift" Heath. Here are the myriad reasons why, in the reigning champ's own words!"
Read the whole interview here: http://www.bodybuilding.com/fun/2014-olympia-weekend-one-on-one-with-reigning-champ-phil-heath.html
8 Simple Rules for Eating a Cheat Meal
Now we're talking! Mark McManus of MuscleHack.com with 8 tips for the successful cheat meal:
SCHEDULE IT! Cheat meals must be planned in advance to stop you overdoing it. If you allow yourself 2 cheats a week, maybe try a Tuesday and Friday evening to split it up. Planning your cheats allows you to stay sane! You can happily stick to your diet when you know that your next splurge is only a day or 2 away. When you see something and you are tempted by it, simply say, "It's ok. I'll have it in a couple days".
REALLY ENJOY IT Yes, every single second of it. If you don't, you'll not be satisfied and be more likely to fall into temptation later in the week.
NO COUNTING This is a time to relax and savor! Don't look at the calories or macros; there's a time and a place for that, and this ain't it!
EAT UNTIL YOU ARE FULL Eating until you are fully satiated means temptation is kept at bay for longer.
BE GOOD EARLIER IN THE DAY It's not a cheat day, it's a cheat meal. If you overdo it all day, you shouldn't be surprised when you have to say bye-bye to your abs. Minimize any damage by being good before the cheat.
TRAIN EARLIER IN THE DAY If possible, train sometime before the cheat. This will make your muscles PRIMED for the intake of nutrients, meaning they'll more likely be partitioned off to muscle repair and growth, and not to fat storage. People on my Total Six Pack Abs program know all about this little tweak for nutrient partitioning
TWICE A WEEK IS ENOUGH I find any more than 2 cheats a week means you'll more than likely start to add body fat. And once a week doesn't feel like enough to keep temptation away. As I said in point (1), splitting it up works better – like mid-week and weekend.
HAVE ZERO GUILT None! You must see your cheat meals as PART of your diet, not a deviation from it. Therefore, savor it with no guilt. Cheat meals are a part of the physical and psychological end of success in this game. They also work as a "reward system" for those of us that are fully committed to achieving our goals.
Find your local Body-Solid Dealer
With over 100 countries carrying our products, chances are no matter where in the United States or the world you are, you can find Body-Solid. Find the dealer closest to you at http://www.bodysolid.com/Dealer_Locator/.
Anti-Gravity Stretches Everyone Needs To Do
"Stiff neck, stiff back, tight shoulders, low back pain, and the list goes on and on. We all go through it, it's part of being a human who sits all day. That's not the end of the story. There are things we can do to relieve some of the discomfort, the pain, improve our posture, and give our poor back a break."
http://www.allouteffort.com/2014/09/anti-gravity-stretches-everyone-needs-to-do.html
Training the Squat
I loved this article from Travis Mash of JTSStrength.com as it's filled with some great advice about squats, a training regimine and in general, a lot of great information.
"Within my squat program, I use several principles that have made the cut of my own personal tryouts. That means that I have not only read the research, talked to the person that conducted the research, but I have used the principles on myself. I used the same principles to squat over 1000lbs, and I still use these principles to squat over 700lbs raw at 41 years old."
Check out the full article at http://jtsstrength.com/articles/2014/09/16/training-squat-weightlifting/
Body-Solid Product of the Day: G5S Single Stack Gym
This single stack powerhouse features six stations:
Chest Press / Mid Row Station: The multi-grip press arm features 3 pair of handgrips to work muscle groups from various angles, creating more thorough muscular development. Adjust the cam at the top of the press arm to perform flawless, chest, shoulder and back exercises. Turn around and blast your lats with a chest supported mid row or reach up and grab the lat bar.
Lat Pulldown / High PulleyStation: Perform lat pull downs, triceps press downs, cable crossovers and many more high pulley exercises. Adjustable hold down pads stabilize your body for lifts beyond your body weight. Unique versatility allows you to increase the strength and endurance of your back muscles.
Ab Crunch / Mid Pulley Station: Develop awesome abs and terrific triceps quickly at this strength training station. Biomechanically engineered for smooth, comfortable, full range of motion crunching movement. Specifically designed for firming, flattening and isolating the entire abdominal area.
Perfect Pec Station: Equipped with swivel arms and designed for both unilateral and bilateral movements you get the maximum stretch for deep muscle toning, and the most incredible upper body development possible.
Leg Extension / Leg Curl Station: When you' re ready to build muscular legs and stronger knee joints, this leg developer is ready to help you meet your goals. Biomechanically accurate pivot point ensures ergonomically correct body positioning for natural and complete hamstring and leg biceps development.
Seated Row / Low Pulley Station: Essential for well-developed backs, seated row exercises build depth in the middle back and train the hard to reach lower lats. Low pulley swivels smoothly and fully to provide accurate resistance for cable curls, upright rows, shrugs, leg abduction, leg adduction and much more.
Powered by a 210 Lb. AlloyWeight Stack: Advanced alloy weight stack plates are machine drilled to exact specifications and employ stateof- the-art nylon bushings for super smooth and quiet operation.
Find out more about the G5B at http://www.bodysolid.com/Home/G5S/Body-Solid_G5S_Single_Stack_Gym.