One of the most important decisions you'll make when building a home workout space is deciding which bench is best for you.
A free weight-based home gym relies almost entirely on a sturdy, high-quality bench as a cornerstone of the workout space. Imagine having a home workout space without the ability to do bench presses, dumbbell curls, incline presses, ab crunches and more.
Many factors have to be pondered including space (the bench has to be large enough to do what you want but may not fit into your space), comfort (who wants to lay on an uncomfortable bench?) and of course, price (you want a great value from your bench purchase).
To make this tough decision easier, we've developed a comparison chart of our utility benches at bodysolid.com/media/compare-charts/benches.html.
This interactive chart compares 12 of our utility (non-Olympic) benches on a number of criteria including weight capacity, adjustment style, whether it features transport wheels or not, pad height and much more. Included is also details on the dimensions of the bench (both folded and fully assembled) as well as total weight of the bench to ensure mobility throughout your space.
Last but certainly not least, details on our warranties are also included to guarantee you're finding the exact bench to fit your needs.
Navigation through the comparison chart is simple and easy, allowing you to sort by category and compare a select amount of benches. Say you really like our PFID125X and GFID71 and don't want to scroll back and forth between the two — no problem, click each of their photos followed by the Compare button and viola!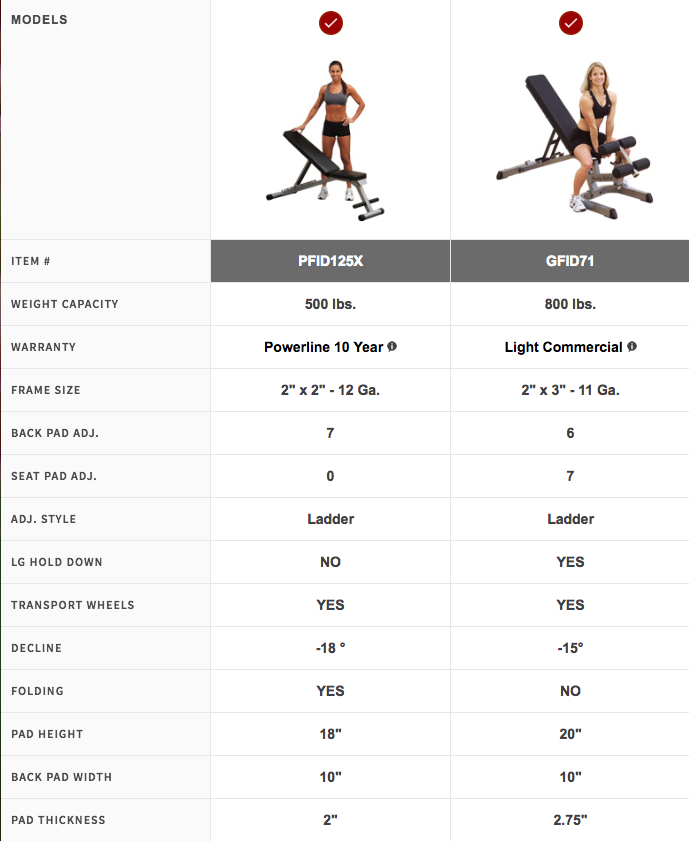 This ability to easily compare two select benches is just another way we've tried to make the buying experience, particularly in the case of benches, stress-free.