For the first time in our 28-year history, Body-Solid is opening its warehouse for a special garage sale on Saturday, October 14.
Customers who attend the Body-Solid Garage Sale will have a one-of-a-kind opportunity to stock up on high-quality Body-Solid equipment at their lowest prices ever.
The one-day sale—taking place at Body-Solid's corporate headquarters in Forest Park, Illinois—will feature warehouse direct prices on a wide range of fitness equipment including home gyms, power racks & cages , benches, dumbbells, kettlebells, weight plates, weight lifting bars. Also on sale will be fitness accessories such as jump ropes and stability balls as well as cardio equipment like treadmills, ellipticals and bikes.
Customers can purchase equipment only on the day of the event and all purchases must be made in person, on site. Sale items include returns, floor models and scratch and dent items. Supplies will be limited and are first come, first served.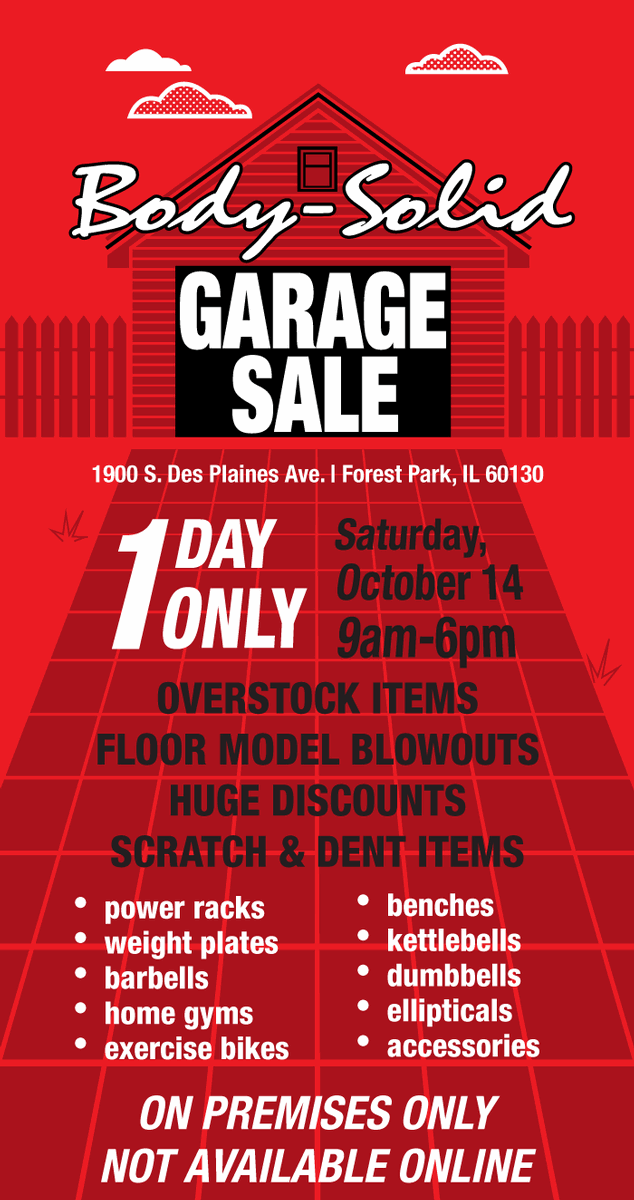 Body-Solid, Inc. is a leading manufacturer and distributor of high quality fitness equipment for the home and commercial markets. With nearly 30 years of experience, Body-Solid offers one of the widest arrays of products in the industry including multi-station gyms, free weight machines, a complete line of cardio products, weight plates, kettle bells, dumbbells and fitness accessories.
Body-Solid sells its products in the United States, Canada as well as over 100 other countries worldwide. Body-Solid's dedication to quality craftsmanship, customer service and value has enabled it to develop a premier reputation within the fitness equipment industry. The company—founded in 1989—is known for its industry leading in-home lifetime warranty and its strong commercial warranties.
The Body-Solid Garage Sale will take place on Saturday, October 14 from 9:00 a.m. to 6:00 p.m. at Body-Solid's corporate headquarters: 1900 S. Des Plaines Avenue in Forest Park, Illinois.
For more information, visit bodysolid.com/events/garagesale, email sales@bodysolid.com or call (800) 833-1227. You can also RSVP to the event on Facebook at facebook.com/events/542658209407405