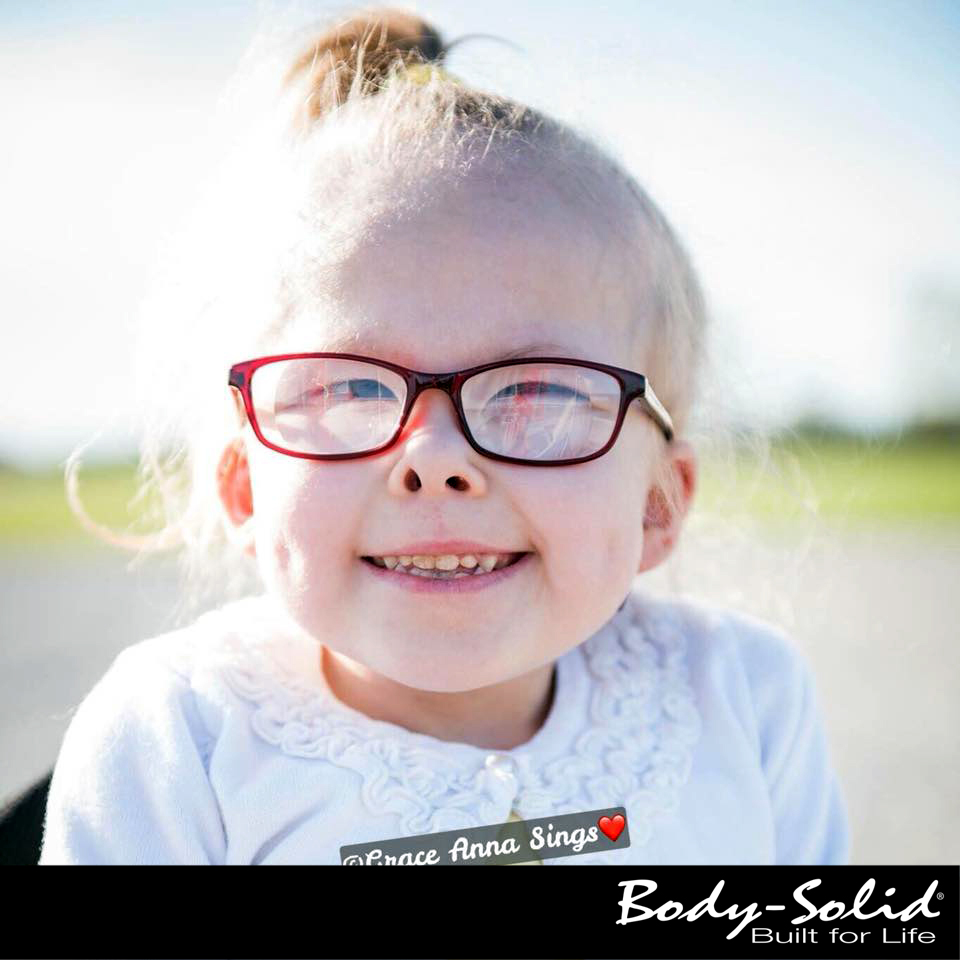 When she was born, doctors said Grace Anna Rodgers would most likely end up deaf and that scoliosis would impair her lung function. That was unfortunately only the beginning. Through the first seven years of her life, Grace has had four eye surgeries, a spinal fusion, tethered spinal cord fixed, spinal rod insertion, six sets of ear tubes, casting of feet, dislocated hip surgery and years of PT and OT.
Despite the surgeries and her rare form of dwarfism (Conradi-Hunermann), Grace has always found solace in one thing: singing.
Yes, this bubbly seven year old is a singing sensation with one of the most beautiful voices you will ever hear.
Grace became a viral sensation four years ago when her rendition of the Star Spangled Banner was all over the internet inspiring disabled children and their families across the world.
Grace's mother (Angie) began singing to Grace when she was just a baby. During hospital stays, Angie would lay besides Grace and sing. This was an outlet for Angie, as she was unable to hold Grace due to her numerous health issues. Singing quickly became the only thing that would calm Grace down.
At just 15 months old, Grace started following her mother's lead and began signing herself. At the time, she seemed more interested in singing than talking.
A few weeks ago, Ohio-based The Koala Times reached out to Body-Solid to see if we could help Grace.
Grace and her mother were looking for a way to get more active and we had just the right gift for this wonderful child: a T50 Treadmill. One of the safest treadmills on the market, the T50 features several safety-focused features none more important than allowing users to easily walk with speeds of 0.1 mph to 5 mph in only 0.1 mph increments.
This was the perfect gift for Grace and when she finally got to use it a few weeks ago, the joy was evident:
"This is fun, mama. This is great!"
If that doesn't bring a smile to your face or tears to your eye, nothing will.
We want to thank The Koala Times for getting us in touch with Grace Anna and Angie. That we can be even a small part of her wonderful journey and life is a blessing.
To learn more about Grace Anna, follow her on Facebook at facebook.com/graceannasings and YouTube youtube.com/user/gracie2bug. You can also purchase Grace and Angie's brand-new book Grace Anna Sings: A Story of Hope through a Little Girl with a Big Voice on Amazon or wherever books are sold.