It's Arnold Classic week! The annual Arnold Sports Festival kicks off this weekend (February 28) in Columbus, Ohio at the Columbus Convention Center.
Body-Solid Arnold Fitness EXPO
Body-Solid will be well represented throughout the weekend's events including selling cash and carry items at Booth 1301 (alongside Berry's Barbell & Serious Steel Fitness). Items for sale will include our world-famous Biceps Bomber, Cannonball Grips, Dogbone Grips, Nunchuck Grips and more!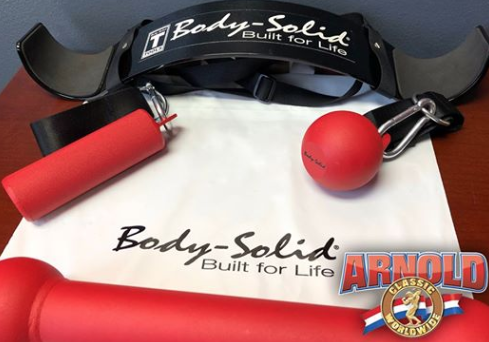 All those who purchase a Body-Solid item will receive a free Body-Solid bag to help carry goods throughout the weekend.
Arnold USA Powerlifting
In addition to our presence on the Expo floor, Body-Solid will also be represented by competitive powerlifter Brady Stewart who will be competing in the annual Arnold USA Powerlifting competition.
Stewart, who trains using Body-Solid's LVIP Leverage Incline Press and DLAT-SF Lat & Mid Row Machine, will try to win his fourth Arnold USA Powerlifting Gold Medal in the Titan Pro Bench Press taking place Saturday, March 2.
Stewart won gold in 2010, 2015 and 2017. Stewart has been using both of his Body-Solid pieces for Arnold USA Powerlifting training. The DLAT-SF may not seem like the ideal equipment for a competitive bench presser but as Stewart says, it helps him in ways that may not be obvious.
"The DLAT-SF has a great transfer to bench pressing in regards to having a solid platform to press from," said Stewart. "Lat stability is one of the most important aspects of benching and strong lats keep the bar from over drifting beyond shoulders during the press."
The LVIP is more obvious in bench press application for Stewart. "I've spent 19 years in the sport of Bench Pressing and nothing has built my pecs better than this piece of equipment," said Stewart.
Stewart—a resident of Cartersville, Illinois–is one of the most accomplished bench press powerlifters in the world having won bronze and silver medals in the IPF Bench Press World Championships, three gold medals in the NAPF Bench Press Championships and five gold medals in the USAPL National BP Championships including four straight from 2015 to 2018.
Join us in rooting for Stewart on March 2 to add yet another gold medal to his collection!