The Best Fitness BFMG30 Multi-Station Home Gym is an easy-to-use multi-station gym designed specifically for use in homes and garages.
This home gym is a fully adjustable single-stack gym featuring a no cable-change design plus heavy-duty construction with 1.5" x 3.25" oval tubing, welded frame components, and sealed bearings.
The highlight of the Best Fitness BFMG30 Multi-Station Home Gym is its five unique workout stations: multi-press, lat pulldown/high pulley, ab crunch/mid pulley, leg extension/leg curl, and seated row/low pulley.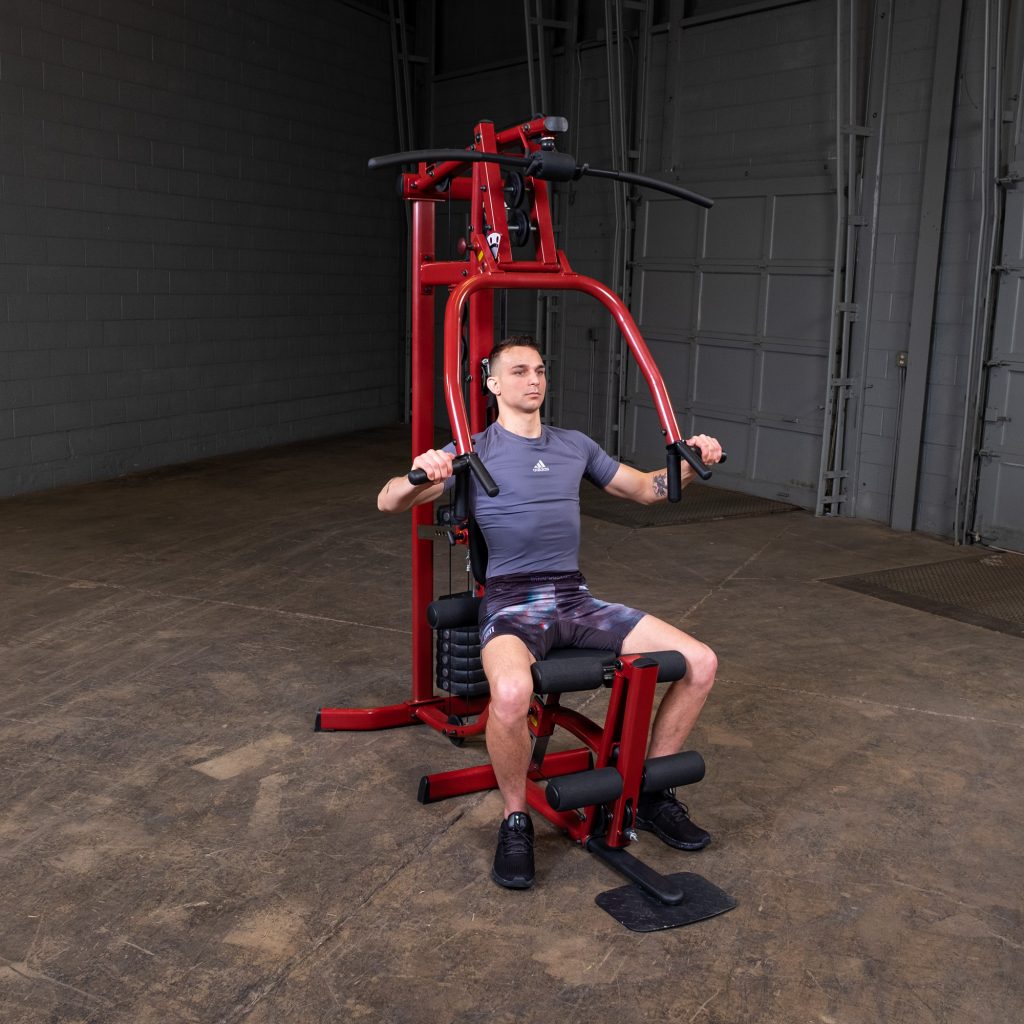 The multi-press station on the BFMG30 features ergonomically correct press arms for natural and efficient arm movements. Additionally, this station includes comfortable multi-position handgrips to help users target muscles across the chest and upper body.
The lat pulldown/high pulley station is designed specifically for lat pulldowns, triceps press downs, cable crossovers, and more. Adjustable hold-down pads stabilize users throughout the movements.
The ab crunch/mid pulley station allows users a smooth, comfortable, and full range of motion when performing ab crunches or other mid-pulley-based movements.
The leg extension/leg curl station lets users attack leg day with biomechanically accurate pivot points for smooth and efficient leg exercises.
The seated row/low pulley station gives users a perfect platform for biceps curls, seated row, upright rows, shrugs, leg abduction, leg adduction and so much more.
Additionally, the BFMG30 Home Gym features a 145 lb. stack with state-of-the-art nylon bushings for smooth and quiet operation.
Multi-functional, fully-adjustable single-stack gym
No cable-change design
Welded steel mainframe
Sealed bearings
Five unique workout stations for a full-body workout
145 lb. weight stack
Warranty: 3 Years Frame, 1 Year Parts
Dimensions: 71.6" L x 46.6" W x 83" H
Product Weight: 336.7 lbs.
Learn more about the Best Fitness BFMG30 Multi-Station Gym at bodysolid.com/home/bfmg30/best_fitness_multi-station_gym or email us at sales@bodysolid.com.