When Cat Pollard—owner of Cat's Club in Sherman Oaks, California—was discharged from the Army in 1990 her life was directionless.
"I went into a great depression after the Army discharged me," said Cat who opened her facility in January 2017. "It was a tough time for me because I thought I was destined to be a soldier for life."
Cat spent time in a veteran's shelter in Boston, Massachusetts following her discharge but was determined to change her destiny. In 2002, she moved to Los Angeles, California and began personal training.
"My passion for motivating others came about in Army Basic Training," said Cat. "I was instantly in leadership positions and I was excellent in motivating soldiers in physical training."
After years of bouncing between gyms, Cat eventually decided to take the leap and fulfill her dream of running a private health club. Cat's Club was born.
In the ever-growing world of personal training studios, standing out is never easy but Cat's Club does just that by utilizing the beautiful southern California weather to blend indoor and outdoor training. More than that, Cat aims to redefine studios and personal training.
"How many personal trainers do you know that have built a private health club in a residential neighborhood?" asked Cat.
Cat's Club is unique from the moment you see it. It's not built in a strip mall, it's not built in an industrial park but rather a neighborhood. This allows Cat to cater training to individual experiences and offers an unmatched level of customization to their workouts.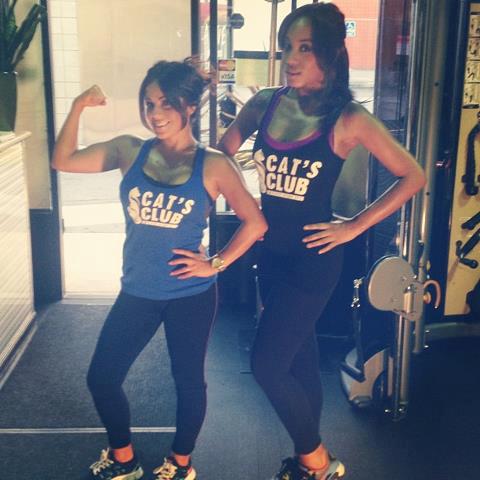 Cat's Club's lounge is a beautiful home that members can use for meal prep, juicing and more. Members also receive full access to the Cat's Club property allowing them to play yard games like badminton and tennis, perform outdoor training with climbing ropes and monkey bars or utilize the full gym inside.
Construction on Cat's Club began in December when Cat worked with Georgia-based Body-Solid dealer Fitness Giant to outfit the new facility. Cat was immediately attracted to Fitness Giant's Body-Solid offerings.
"I went for products that had great reviews," Cat said. "Body-Solid's customer service has been the best out of all companies I'm in business with, that's a huge plus. Any issue I have had, Body-Solid is quick to fix the issue without question."
In total, Cat purchased nine Body-Solid products including the GAB300 Semi-Recumbent Ab Bench, DLEC-SF Leg Extension/Leg Curl Machine, GIOT-STK Inner/Outer Thigh Machine, FCD-STK Chin-Up Station, Body-Solid's Powerline Seated Calf Raise as well as a number of weights and accessories (foam rollers, kettlebells and dumbbell racks).
"The kettlebells get huge praise for being so easy to hold," said Cat of her member's favorite Body-Solid products. "The (GAB300) ab bench and (DLEC-SF) leg extension machines are favorites as well for their smoothness and comfort."
Needless to say, Cat has found the direction she was always looking for — in just a few short months, Cat's Club has grown to tremendous heights and the client base continues to expand.
Learn More
You can learn more about Cat's journey as well as Cat's Club by visiting catsclubfitness.com or by liking Cat's Club on Facebook (facebook.com/catsclubfitness), Instagram (instagram.com/catsclubfitness) and Twitter (twitter.com/catsclubfitness).
For more information on Body-Solid and to see what Body-Solid can do for your facility or studio, visit us at bodysolid.com/markets, email sales@bodysolid.com or call (800) 833-1227.