Fan-powered exercise bikes have grown in popularity over the last few years and for a good reason! Fan bikes' typically have simple design/construction which keeps cost low, they are always great for low-impact, high-intensity workouts and fit perfectly into cross training and HIIT workouts.
Today we'll take a deeper look at the benefits of fan bikes and look at Body-Solid's new FB300 Fan Bike.
Cool Off
Many commercial treadmills and exercise bikes have begun to offer cooling mechanisms whether a fan or a burst of cold air. Fan bikes have a built-in cooling fan as the air from the bike blows back onto you, keeping you comfortable throughout your workout. This is great to have during a particularly intense workout.
Choose Your Resistance
This seems simple but it's one of the many great benefits of a fan bike. You adjust the resistance to fit your current worker. Pedal fast and the fan blades will spin quicker, adding resistance. Slow down your pedaling and the blades/resistance slows down with it.
Keep it Simple
Fan bikes are typically built with only a few parts which makes identifying problems easy. Quite often you'll be able to address and fix any problem with your fan bike right away.
Low Impact
If running or rowing is too stressful on your body or you're currently rehabbing an injury, fan bikes are a great way to add high-intensity cardio to your workout routine.
Metabolic Conditioning
Fan bikes are great for metabolic conditioning and can help break through plateaus in your training. Fan bikes fit perfectly into most interval or cross training routines.
Cost
The benefits listed above make fan bikes a great choice for a number of different applications but at the end of the day, most people want an affordable option. Fan bikes are typically on the low end of the exercise bike price spectrum due in large part to the simple design and relatively basic technology throughout.
Body-Solid FB300 Fan Bike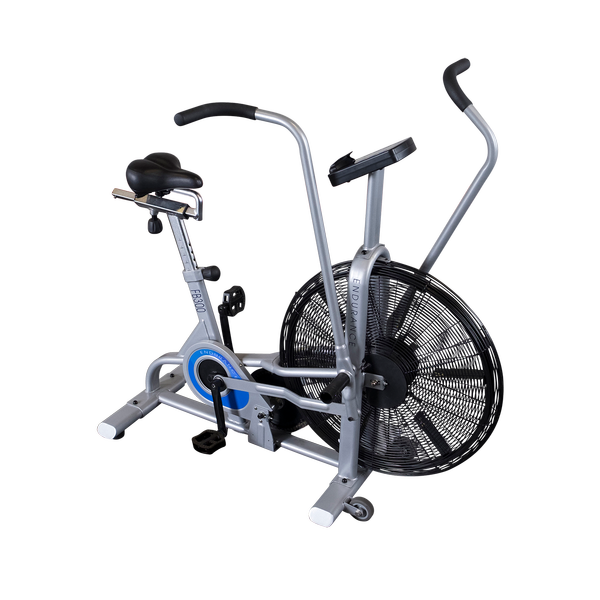 The Endurance FB300 Dual Action Fan Bike is designed to be suitable for a variety of fitness levels from the novice to expert rider and is perfect for both rehabilitation and high-intensity workouts. The FB300 offers a comfortable fit for various size users as the seat post is completely adjustable forward, back and vertical. This allows virtually any sized user to safely adjust the machine to their ideal position.
The FB300 also features convenient transport wheels allowing you to move the machine anywhere in a facility easily and is backed by a Body-Solid's industry-leading commercial warranty.