Seven years ago, Natalie Hudgens—owner and operator of Iron Fitness in Springfield, Illinois—was experiencing severe back pain. Soon after, she lost the ability to move her right leg. Sensing something was seriously wrong, she sought medical advice and the diagnosis was not encouraging.
"I had a large tumor removed from my spinal cord," said Hudgens. "Had it not been removed I would have lost my ability to walk."
This life-altering moment completely changed Hudgens' outlook on life and more importantly her outlook on fitness. Hudgens had long been into fitness but mostly step classes, cardio and a few weight machines here and there.
"Post-surgery I felt so thankful for two things," said Hudgens. "That I was again able to move my body the way I wanted and that I was physically strong going into the surgery which made recovery go much quicker."
When Hudgens was able to return to the gym, she started focusing on strength training and began hitting the weights hard. She accepted a part-time position at a local YMCA in order to use their equipment. Soon after, she was asked to become a group exercise instructor. That's when she got the itch to do more and help more: she decided to become a personal trainer.
"I loved helping others work towards their goals," said Hudgens.
During her time at the YMCA, Hudgens developed a very popular weight lifting program which was bringing more women to the weight room than ever before.
"This was when I found my passion," said Hudgens. "Empowering women in the weight room and, in turn, their lives."
Hudgens left the YMCA and has now developed an online personal training business and in November, opened her very own fitness studio, Iron Fitness.
"Iron Fitness provides a place for women to lift weights and attend various classes," said Hudgens. "I am so proud of the space I have created!"
Hudgens works closely with friend Misty Hall at Iron Fitness. For now, it's a two person operation but the hope is to develop an amazing team of women as they continue to grow.
Iron Fitness welcomes women of any age or fitness level to the facility. They specialize in challenging yet doable classes for every fitness level. Classes range from high-intensity interval training (HIIT), Barre as well as personal training and nutrition programs. Iron Fitness also offers community-wide programs that provide weight workouts, HIIT ideas, nutrition coaching, Facebook support and more.
Hudgens first discovered Body-Solid equipment from The Body Quest Store in Springfield, Illinois (200 miles south of our Forest Park, Illinois headquarters). There she purchased a number of large ticket items including a functional training center, benches, smith machine, squat rack and more.
"I love the sleek look of the Body-Solid equipment," said Hudgens. "It functions very well and the life time guarantee is priceless."
When we announced our once-in-a-lifetime Garage Sale this fall, Hudgens and Hall made the three-hour trip through torrential downpour to stock up on more equipment including kettlebells, ropes, dumbbells and a bench press.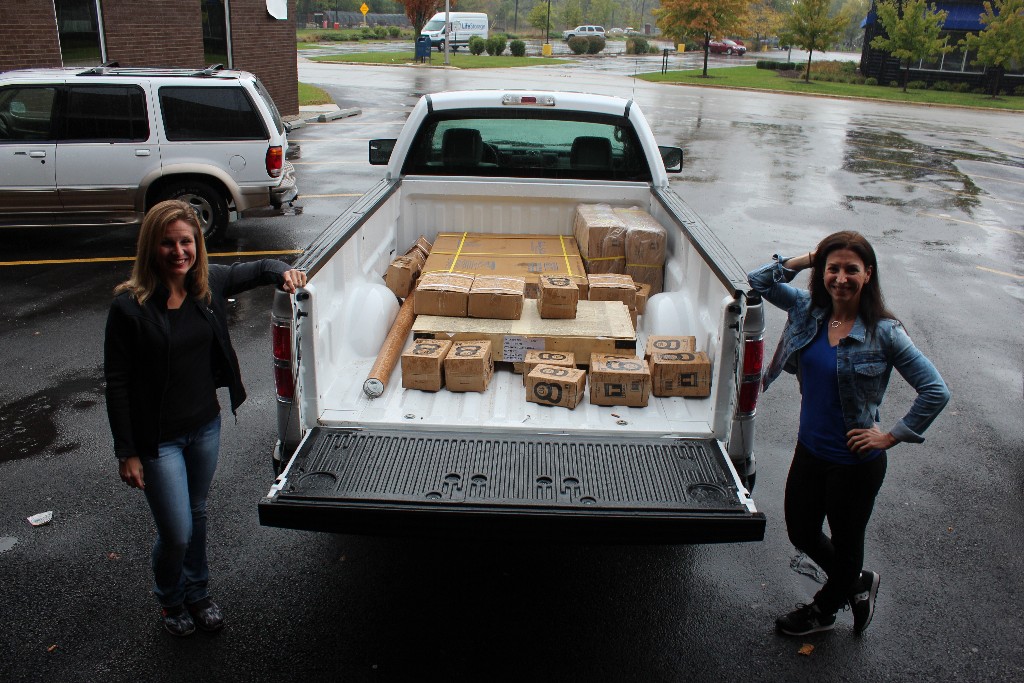 No matter what happens to Iron Fitness in the future, Hudgens wants to keep the goal the same:
"My passion is empowering women both in and out of the gym, so maintaining the personal connection with each of my clients is always at the top of my priority list."
Learn more about Iron Fitness by liking them on Facebook (facebook.com/Iron-Fitness-Springfield-IL-842528655914327/) or by visiting them in Illinois' capital city at 773 Durkin Drive, Unit A Springfield, Illinois.
To learn more about Body-Solid and to see what Body-Solid can do for your facility or personal workout space, visit us at BodySolid.com.