Keeping pace with the ever-evolving fitness industry, Body-Solid remained aggressive in product development over 2017 establishing 20 new SKUs in four different product lines across all categories of fitness.
Here is a rundown of all the new products we released this year including a highlight video showing them off: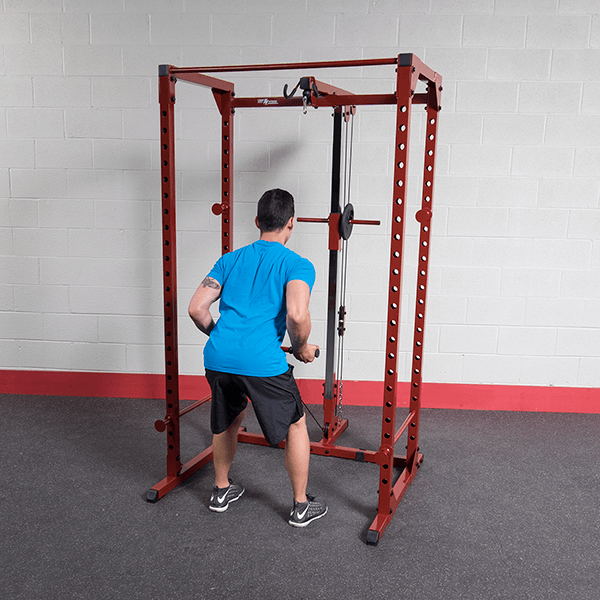 BFLA100 Lat Attachment for BFPR100
The BFLA100 allows users to expand their BFPR100 Power Rack by adding a high and low pulley option, great for lat pulldowns, triceps pressdowns, cable crossovers, seated rows and more.
BSTBPAD Shoulder Pad
The BSTBPAD's ergonomic, contoured design creates even weight distribution across shoulders and hips making squats, lunges and hip thrusts more comfortable.
BSTCB Updated Cannonball Grips
The BSTCB feature a non-slip matte red paint finish and a strong nylon strap to fit any chin bar, Olympic bar, or dumbbell. For added safety, stability and customization, the BSTCB Cannonball Grips come with a newly-upgraded strong, sturdy carabiner attachment which allow users to swap the BSTCB with other Body-Solid grip strength products including the BSTDB Dog Bone, BSTNG Nunchuck Grip.
BSTDB Dog Bone
The Body-Solid Tools Dog Bone features two surfaces for grip strength workouts. Use the center portion or increase the challenge with the oversized spherical ends. The BSTDB Dog Bone can be attached to grip plates, dumbbells, kettlebells, barbells, cable machines and pull-up/chin-up bars.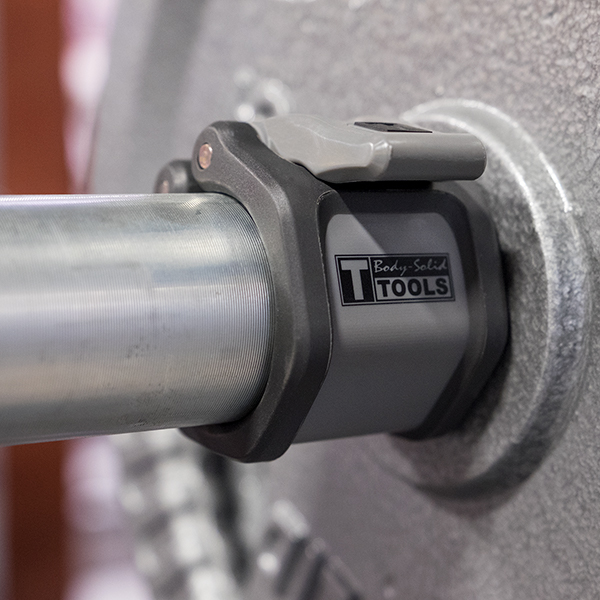 BSTLJHX Hex Lock Jaw Collar
The BSTLJHX features a quick-locking latch and premium gripping surface to ensure safety and security from falls and drops. Slim, light and durable, BSTLJHX are designed for use with all 50mm (2") weight lifting bars.
BSTLJO2 Oly2 Lock Jaw Collar
Use Body-Solid's BSTLJ02 OLY 2 Lock Jaw Collars to secure bumper plates in place during even the most strenuous of workouts. Thanks to its unibody design and lever, the BSTLJ02 can be adjusted quickly and easily during workouts. Soft elastomer pads and a premium resin frame helps protect bars and plates from damage during lifting.
BSTNG Nunchuck Grip
Challenge grip strength and target forearms with Body-Solid Tools' BSTNG Nunchuck Grips. Use Nunchuck Grips (also known as grandfather clock grips) for pull-ups similar to the classic towel grip pull-up or add them to a rig for a challenging monkey bar course.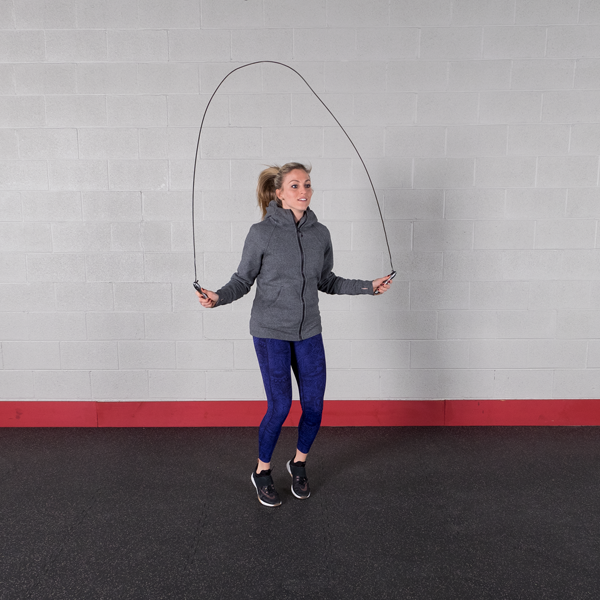 BSTSR10 Premium Speed Rope
Body-Solid's BSTSR10 Premium Speed Rope improves upon previous speed rope design, offering one of the highest quality ropes on the market today.
BSTWPBOX Wooden Plyo Box
The Body-Solid BSTWPBOX 3-in-1 Wooden Plyo Box features three distinct height options making it the perfect plyo box for fitness enthusiasts of all levels while giving the advantage of three plyo boxes in one.
BSTWVP40 Premium Weight Vest
Specially designed to withstand the toughest workouts, the BSTWVP40 features durable stitching to ensure long-lasting use. The BSTWVP40 is fully adjustable and allows customized weight and resistance up to 40lbs.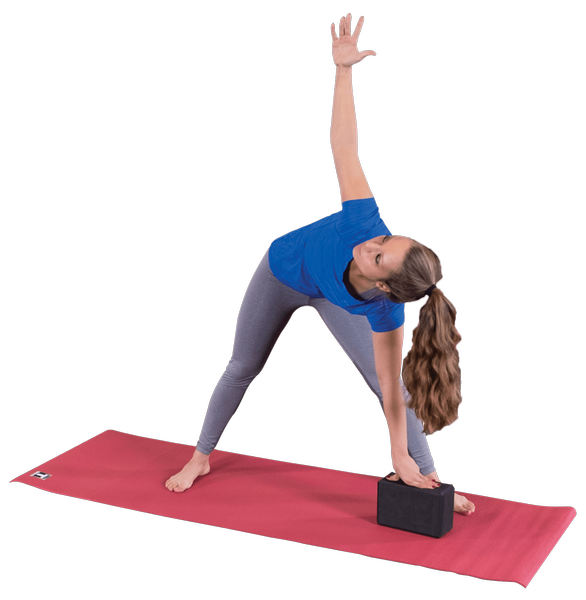 BSTYB10 Body-Solid Tools Yoga Block
Take yoga practice to the next level with the Body-Solid Tools Yoga Block. A must-have for yoga practitioners of all levels. Perfect for both studio and in-home use. Use in meditation, Iyengar, Anusara, Ashtanga, restorative or power yoga.
DR100 Dip Rack for PPR200/BFPR100
Transform the PPR200 or BFPR100r Power Rack into a powerful dip station with the easy-to-use, easy-to-install DR100 attachment.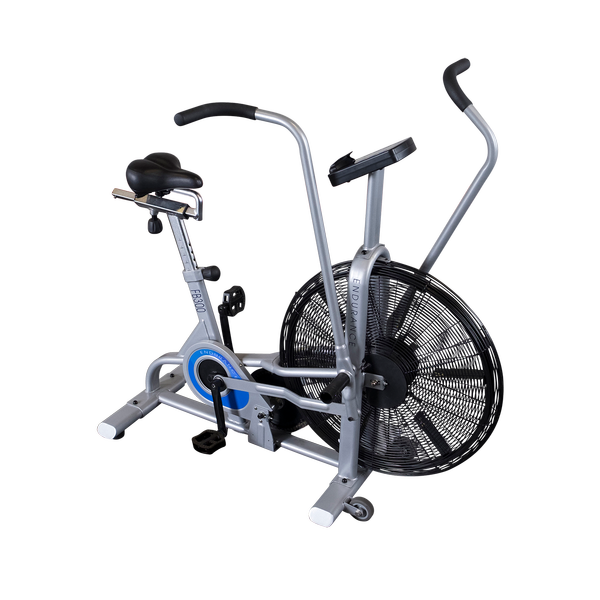 FB300 Endurance Fan Bike
The Endurance FB300 Dual Action Fan Bike is designed to be suitable for a variety of fitness levels from the novice to expert rider and is perfect for both rehabilitation and high-intensity workouts.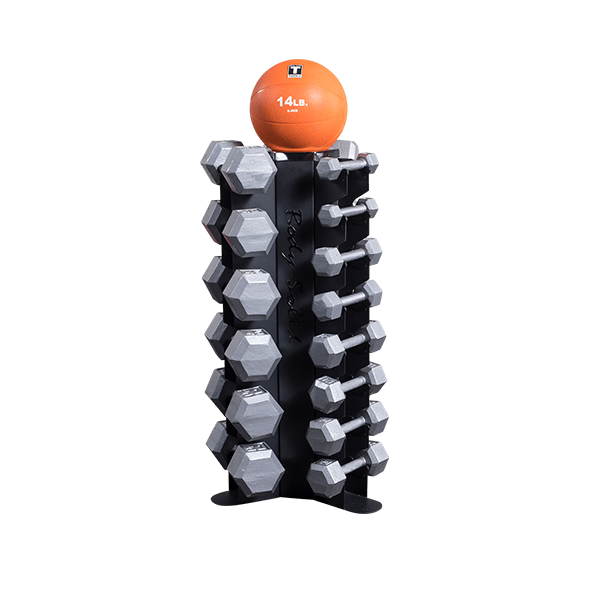 GDR80 Vertical Dumbbell Rack
Body-Solid's GDR80 Body-Solid Vertical Dumbbell Rack features vertical storage for 10 pairs of dumbbells, keeping workout spaces clean, organized and safe.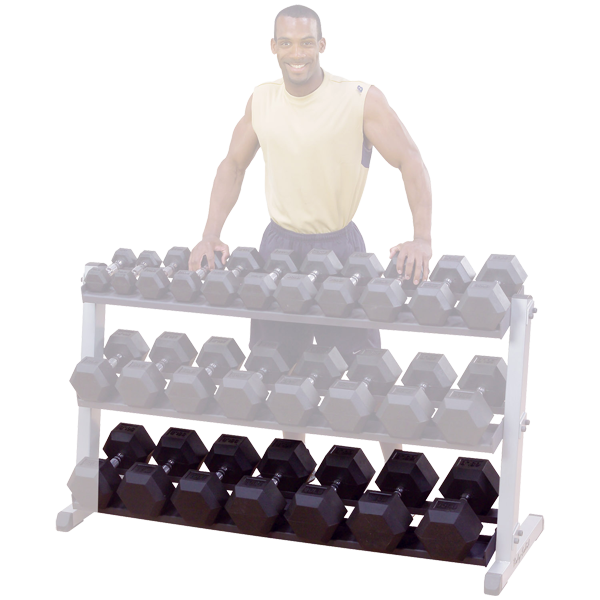 GDRT6 Dumbbell Tier for GDR60
The GDRT6 is an optional 3rd Tier for GDR60. Allows storage of up to 70 lb. hex dumbbell pairs. Featuring heavy-duty construction for maximum strength and stability.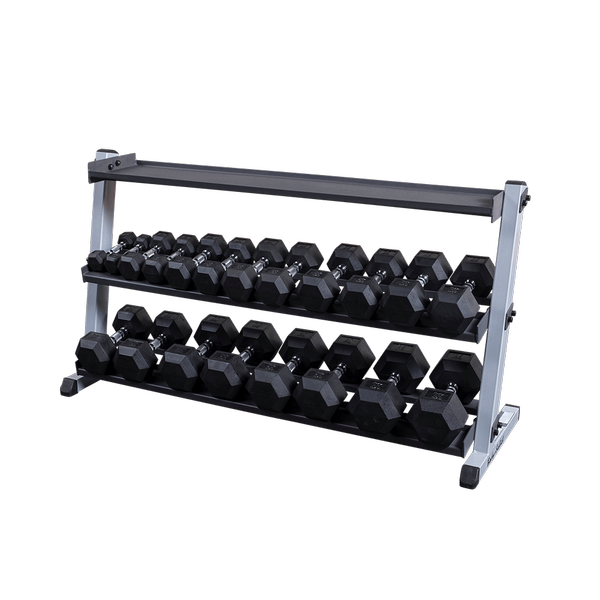 GKRT6 Kettlebell Shelf for GDR60
Body-Solid's GKRT6 adds an optional third-tier kettlebell storage rack to the existing GDR60 dumbbell rack. The GKRT6 is designed to hold a 5-50 lb. kettlebell set and will help keep workout spaces clean, organized and safe.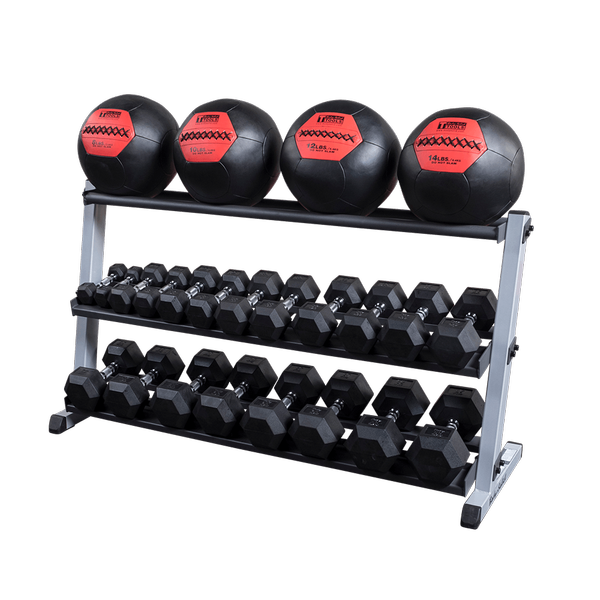 GMRT6 Medicine Ball Shelf for GDR60
Body-Solid's GMRT6 is an optional third-tier medicine ball storage rack for the GDR60 dumbbell rack. The GMRT6 is the perfect storage solution for medicine balls, dual-grip medicine balls, slam balls and more.

KBV 35-50 Heavier Vinyl Kettlebells
Body-Solid now offers new heavier vinyl kettlebell weights: 35 lbs, 40 lbs, 45 lbs and 50 lbs.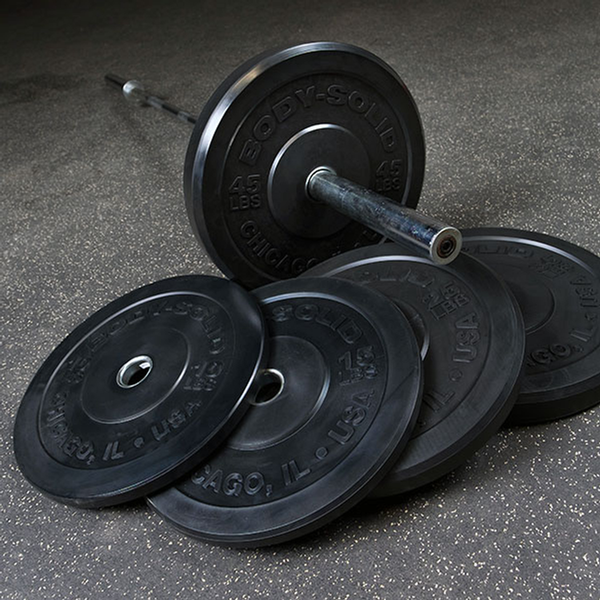 OBPX Chicago Extreme Bumper Plates
The Chicago Extreme Bumper Plates are the most durable plates in the Body-Solid lineup featuring superior durability in any facility with a quality smooth finish and classic black color.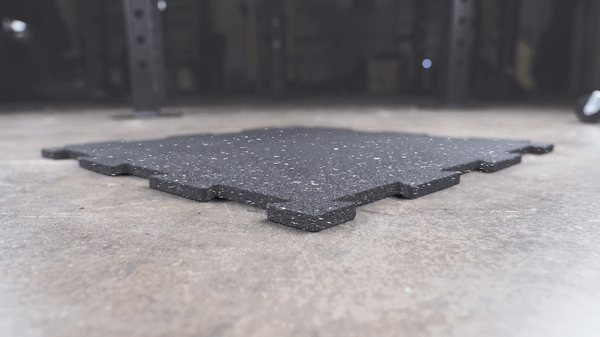 RFBST4PS Rubber Puzzle Mat
Body-Solid Tools RFBST4PS Puzzle Mats are made from high quality Malaysian rubber. Easy to install, snapping edges make installing the RFBST4PB a breeze. Each pack contains four 19.75" pieces of minimal odor flooring, 7/16" thick.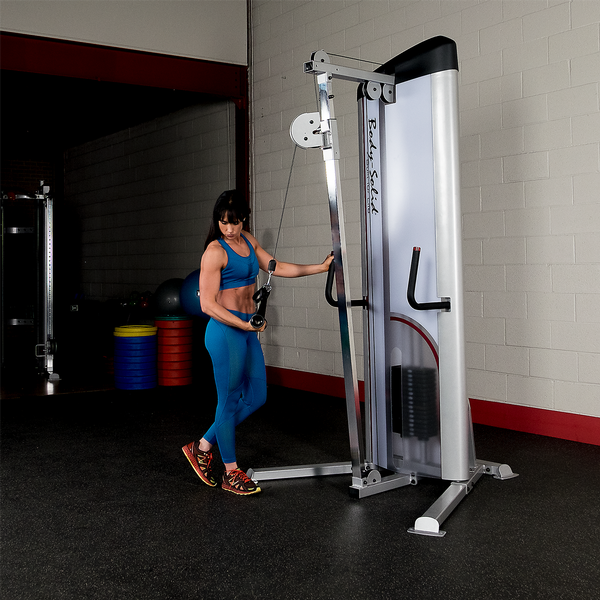 S2CC Series II Cable Column
The Body-Solid Series II Cable Column combines the power and durability of Body-Solid's Series II commercial line with a virtually unlimited range of exercise possibilities. The S2CC's compact footprint and simple adjustments make it an ideal fit in any home workout space or commercial gym setting.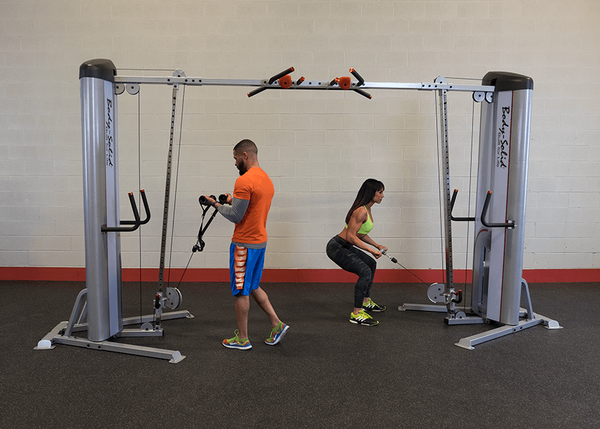 S2CCO Series II Cable Crossover
With dozens of independent height adjustments and 180° cable positioning for frictionless guidance in all directions, the Body-Solid S2CCO is one of the most versatile and functional machines in the market today.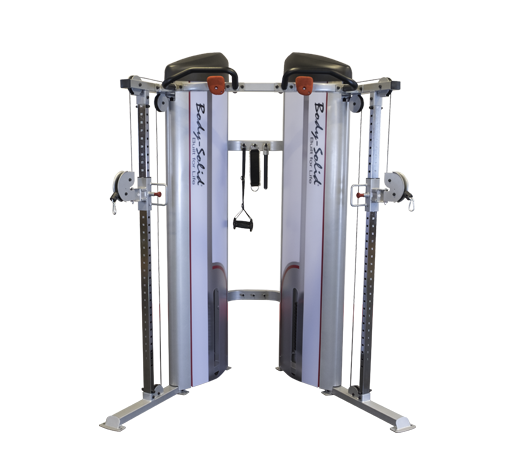 S2FT Series II Functional Training Center
Unlock a near-unlimited amount of workout possibilities with the Body-Solid S2FT Series II Functional Training Center. The S2FT's dual independent weight stack system provides dedicated resistance with true isolateral movements from cable crossovers and shoulder presses to pull-ups, leg kickbacks and everything in-between.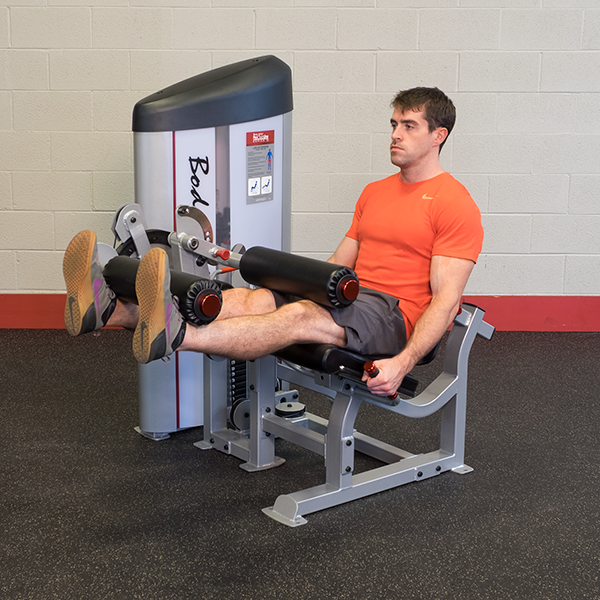 S2LEC Series II Leg Extension & Leg Curl
The S2LEC combines two of the most popular leg movements in one easy-to-use machine. Strengthen quadriceps muscles with the leg extension exercise and work glutes and hamstring muscles with the leg curl. The transition between the two movements is simple and easy, allowing maximum time for workouts.
SFID425 Commercial Bench with Hold Down
Body-Solid's SFID425 Commercial Adjustable Bench is a sturdy, full-commercial bench that features a robust 1,000 lb weight capacity. The updated matte black paint finish is durable and scratch resistant and is sure to look great in any facility.
SPR500 Half Rack
The Body-Solid ProClub Line SPR500 Commercial Half Rack is a full commercial half rack built for heavy weight training in any facility. The SPR500 Commercial Half Rack is designed to excel in heavy use facilities like high schools, colleges and universities, police and fire departments, military facilities, sports performance training facilities, and any commercial gym or training studio.
SPRBCB Bench Clearance Back Bar
The SPRBCB is designed to allow full entry of a multi-position bench into the SPR500 Half Rack.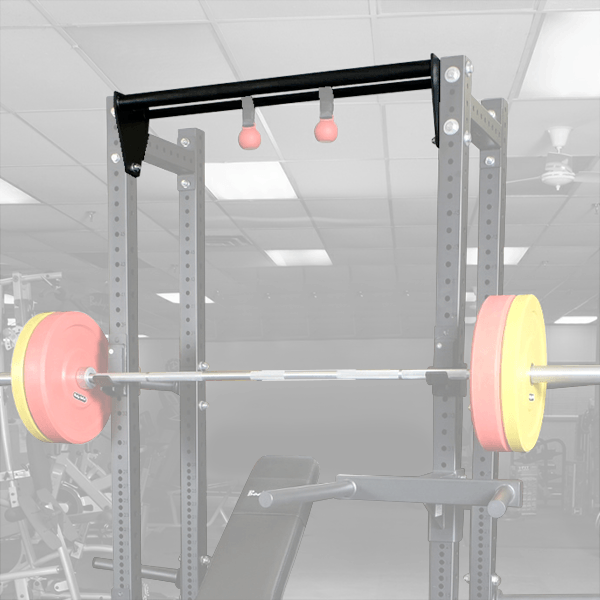 SPRDCB Dual Chin Up Bar
The SPRDCB Dual Chin Bar puts both a wide grip and a traditional grip chin bar on the SPR500 Commercial Half Rack. The SPRDCB has both a 2" and 1.5" diameter chin bar with a comfortable knurl for a tight, solid grip.
SPRHALFEXT Half Rack Extension
The SPR500HALFBACK is an extended rear frame to the SPR500 Commercial Half Rack.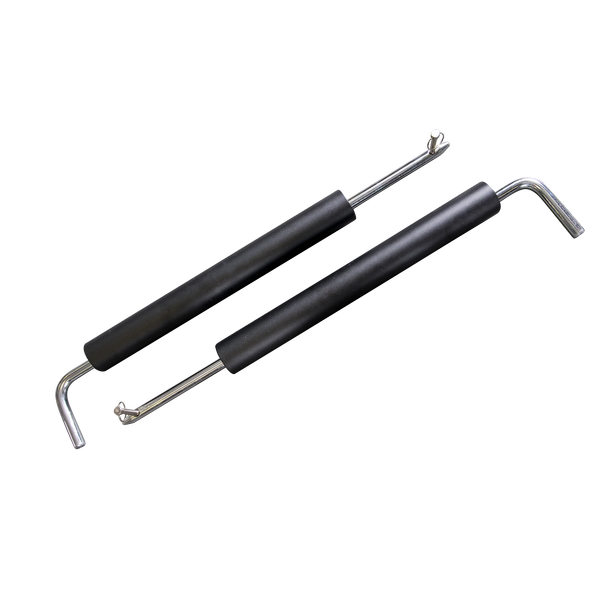 SPRPS Pin & Pipe Safeties
The SPRPS Pin and Pipe Safeties are compatible with the SPR500BACK or a SPR500 Commercial Half Rack with an added rear extension. SPRPS Pin and Pipe Safeties make a great set up for heavier lifts such as rack pulls, shrugs and many more.
SPRSA Spotter Arms
The SPRSA Safety Spotter Arms ensures users can use the SPR500 Commercial Half Rack with unmatched safety.
SPRSS Strap Safeties for SPR1000
Compatible only with the Body-Solid SPR1000 Commercial Power Rack, the SPRSS Power Rack Strap Safeties are ideal for bench presses, squats, deadlifts, rack pulls, barbell rows and more. The SPRSS Strap Safeties are easy to adjust and will be an Olympic bar's best friend by protecting its finish.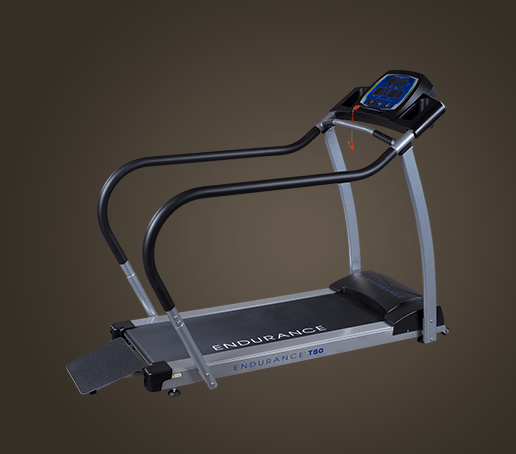 T50.1 Walking/Rehab Treadmill
The redesigned T50 walking/rehab treadmill features an easy access rear entry ramp, extended handrails and reworked LED display.