Having a Full Power Rack (SPR1000) or Half Rack (SPR500) is arguably the most important piece of strength training equipment a modern training facility can own. Whether your clients are performing HIIT (high-intensity interval training), powerlifting, Olympic lifting or just want to build muscle and burn fat, a full or half rack is a perfect vehicle to accomplish their goals.
So why one over the other?
Versatility
Most facilities these days need to be fully equipped to handle the varied fitness goals of their members. A modern facility needs to be ready to handle users interested in cross training, HIIT athletic training, weight loss, bodybuilding and more. Power Racks offer tremendous versatility and ability to perform dozens of movements including squats, overhead press, snatch, clean and jerk, lunges, bench press, rack pulls, and more. Half Racks will offer more freedom to perform dynamics lifts such as Olympic lifts, lunges and overhead press' since you are working outside the rack.  One thing to look for when choosing a power rack are options and attachments. Some Power Racks—like our SPR1000 Power Rack and SPR500 Half Rack—offer several optional attachments and accessories like ball rebounders, plyo steps, multi-grip chin up bar, storage and more to cater to the exact needs of your customers.
Customization
In addition to adding optional attachments to your Power Rack, you can also use multiple Power Racks in sequence to create an ideal group workout environment. Body-Solid's SPRACB Connecting Bar allows you to connect two full Power Racks or two Half Racks together. Now you've created the ideal centerpiece for a group training facility where users can focus on their workouts without getting in one another's way. Additionally, you can add attachments and accessories to help mold your facility into the ideal training studio. A full or half rack can be a one-stop shop for your client's ultimate workouts.
Space
Space is always an issue with commercial fitness facilities, no matter how much you have it's never enough. Maximizing your space is key to being successful. Power Racks, thankfully, are tremendous space-savers as they allow users to perform dozens of exercises in one self-contained full or half rack. Additionally, half racks (like Body-Solid's SPR500) can help save you precious feet by offering a small footprint without sacrificing effectiveness.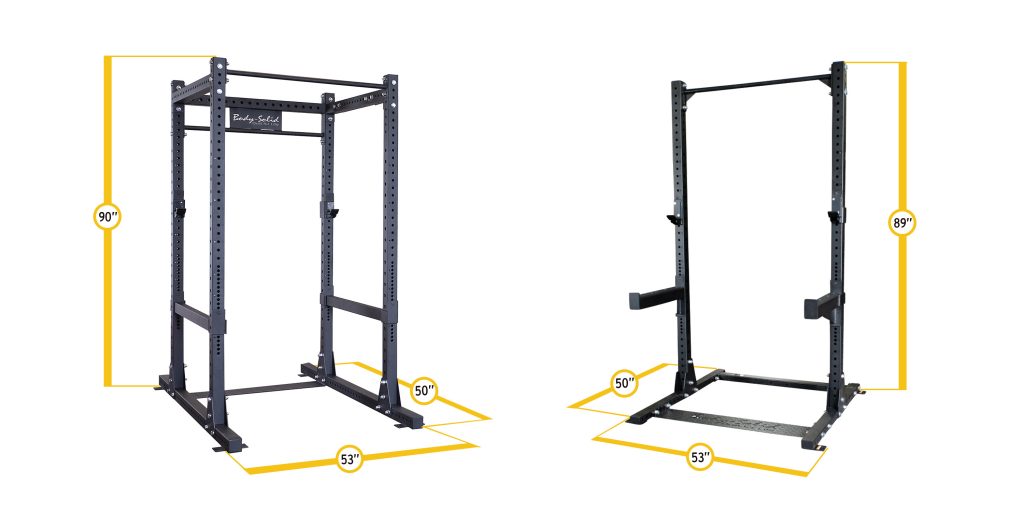 Durability & Reliability
Power Racks are built to last. Though sometimes bulky and large, well-built power racks are meant to stay strong and stable through the toughest of workouts. For example, our SPR1000 Power Rack and SPR500 Half Racks are built with 3"x 3" 11-gauge steel tubing and both carry a 1,000 lb. weight capacity. This may seem unnecessary at first, but you want your full or half to handle whatever you throw at it. As a result of this solid construction, Power Racks are designed to last a lifetime. Built without pulleys, stacks or additional construction, they are simple machines that shouldn't require much maintenance after installation.
Safety
Both the SPR1000 and SPR500 were designed with safety in mind.  Power Racks offer tremendous safety to those working without a spotter. Integrated spotter arms and safeties make it impossible to drop weights on your feet or your body giving users peace of mind while lifting heavy. Additionally, the durability and solid construction of most high-end, commercial Power Racks ensures they won't move or sway during the workout. Built with minimal construction and fewer moving parts, Power Racks are simple, stable and best of all: safe.
Other Items to Consider
If you're looking to pair your new Power Rack with some additional equipment we suggest the following:
Learn More
If you would like to learn more about Body-Solid, Body-Solid Power Racks or any other item we sell, please contact Bill Ciszewski for more information.