Weight For It Fitness, located on Long Island in Sayville, New York, is one of the most unique gym facilities we've ever encountered.
Its uniqueness is what makes it so special, though. Weight For It Fitness is "located" on Long Island but the gym is fully mobile and on wheels. Yes, the gym is in owner Janet Perry's van.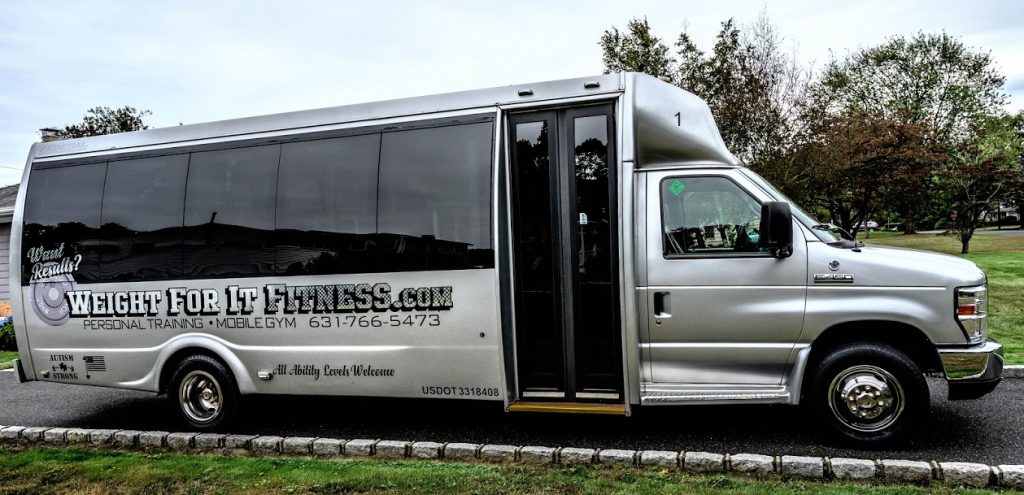 It's the reason for this bus/van gym that makes it so inspirational though. Perry's goal isn't simply to have a gym that can come to you but rather a gym that caters to those with social anxiety, autism or other disorders that prevent them from feeling comfortable or at home in a commercial gym setting.
"It saddened me that people who weren't able to go to a gym because of physical, emotional or situational restraints couldn't get the same enjoyment from a gym that I got," said Perry. "My heart has always been for people and families in the autism community. The sensitivity that people on the spectrum have to various noises, crowds, smells, etc can be overwhelming and may keep them away from a community gym."
Perry's history in fitness dates back to watching her brother train to become a bodybuilder. After years of working out both at home and at local gyms, her life transformed after injuring her shoulder. After seeking out a personal trainer and experiencing a new way to train to get her shoulder back to 100%, her passion for fitness increased.
"Everything about having my trainer by my side, helping me and never giving up on me pushed me to reach new goals and to overcome challenges, both physically and mentally," said Perry. " That inspired me to want to do the same for others. God gave me a passion for fitness and helping people. Merging those passions was His calling for my life right now."
Perry's first client, after graduation from AAPTE at Hofstra University, had autism and expressed that she wasn't always comfortable in gym settings.
"I came home that day and said to my husband that I really wish I could bring the gym to her." Perry said, "My husband replied, "well let's bring the gym to her" and that was the beginning of the concept!"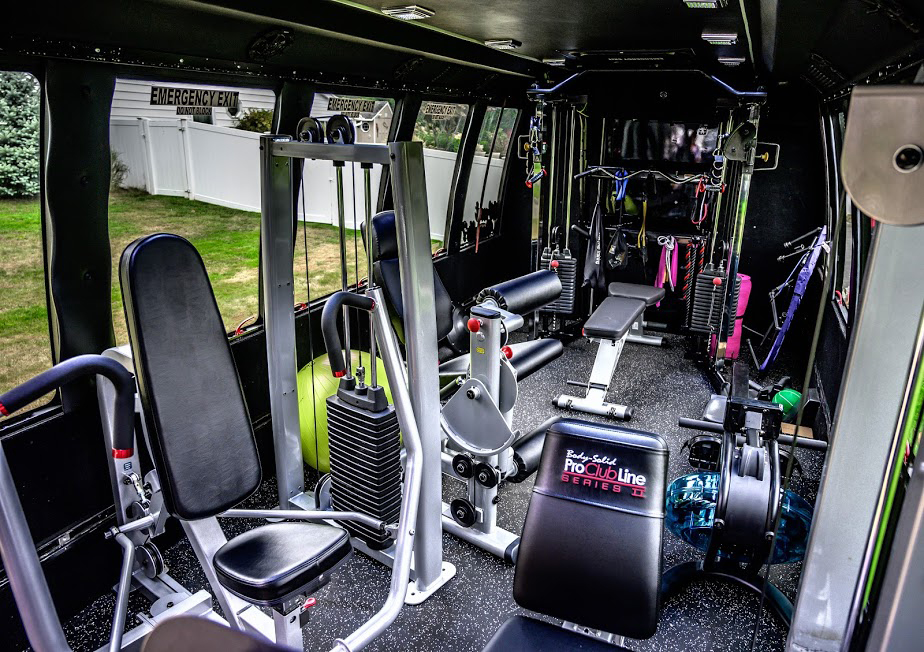 In addition to helping those who don't feel comfortable at gyms, Weight For It Fitness also seeks out those who can't make it to the gym even if they wanted.
"Caregivers need care too," said Perry. "The degree that the caregiver devotes to meeting the needs of the family member on the spectrum and the family's needs as a whole, leaves so little time to care for themselves."
Additionally, Perry tailors workouts to recent mothers as well.
"Postpartum moms may not have someone to care for their infant or may not want to leave them to go to the gym," said Perry. "With Weight For It Fitness, they can bring their child in a seat right into the gym."
Weight For It Fitness officially launched this fall after Perry worked with Body-Solid dealer FitnessFactory.com on the acquisition of several Body-Solid pieces.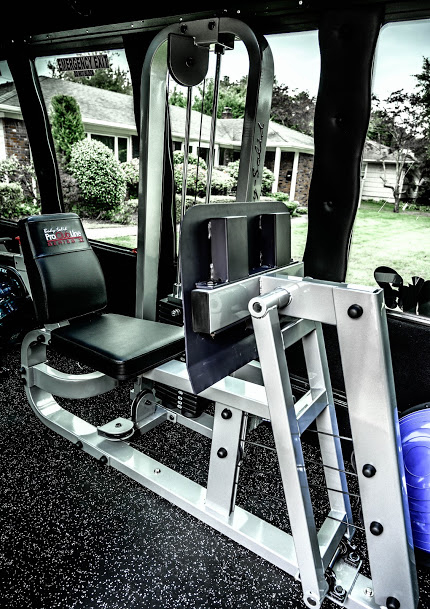 "Finding equipment was difficult, you can only fit so much into a bus," said Perry. "I tried to choose machines that work large muscles knowing I could use additional equipment for smaller muscles like shoulders, biceps and triceps."
Thanks to help from FitnessFactory.com, Perry and Weight For It Fitness added the DLECSF Dual Leg Extension, SLP500 Leg Press, S2CP Chest Press, GFID225 Bench, weight plates and more.
"Michael Christopher (from FitnessFactory.com) was knowledgable, helpful and responded to calls and emails quickly," said Perry. "He helped get the best pieces while still staying within our budget — FitnessFactory.com took a lot of stress out of making this new venture possible."
As far as the Body-Solid equipment, both Perry and her clients have nothing but great things to say.
"So far the workouts have been great," said Perry. "Esthetically, the equipment makes the gym look polished and each piece is sturdy and really great quality."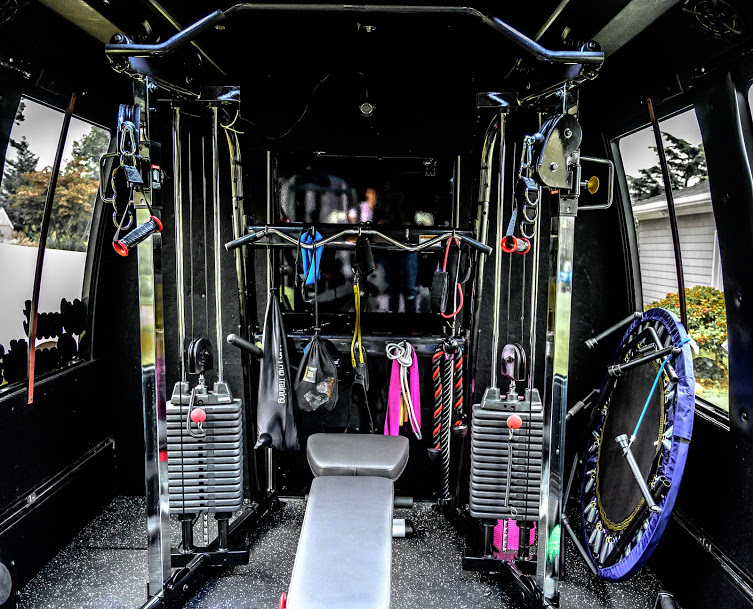 Thought Weight For It Fitness has just started, Perry has high hopes for the new venture.
"My hope and prayer is that we can help as many people as possible to move, reach goals, get stronger and truly enjoy the amazement of what the human body can do," said Perry.
For Perry, bringing equipment and knowledge to those who need it is the most rewarding aspect of running Weight For It Fitness:
"Everyone should be able to have the ability to get and stay fit and to enjoy the gift of movement. Challenging yourself to do new things and reaching any fitness goal is exciting and rewarding!

We can certainly use body weight, which is in itself a great workout, but sometimes challenging yourself to use heavier weight and build muscle can be empowering. It's nice to have options. We have the power to change our bodies, improve our skills, raise our mind/body awareness and feel energized by exercise. I believe it is one of the great healers of mind and body. The human body is amazing!

The more people know about how the body works the greater their chance for success is in improving their health and having less risk of injury. Results don't happen overnight but resistance training provides great changes holistically over time which is how the company name came about.

If you want true lasting results, WEIGHT FOR IT"
Learn more today about Weight For It Fitness by visiting them at weightforitfitness.com or calling (631) 766-5473.